Even if they collect all members across the multiple sites they operate with, there is no chance that they have over a million members who are active all the time – so, get real FlingHub.com! Oh, wait a minute if you are thinking of including the staff profiles and the cam models that are confusing users, then you might have the chance to get to around several dozen thousand members – I get it! Otherwise, it is a shame calling yourself a hub and expecting for users to believe that you engage that many people.
Note:  Don't confuse this site with one of my top recommendations, the amazingly awesome hook up site, Fling.com dating app.
The True Fling Hub Review
Although I am addressing my concerns directly to FlingHub.com, I doubt that they will listen to them and that they will be deeply concerned about my complaints. I think they are only interested in engaging as many new people to rip them off with regular dating subscriptions, with additional webcam rooms, and with video production. It is really not easy to tell the difference between what is a real profile, what is the admin, and what is the cam girl trying to make some profits at your expense. Hey, it is up to you if you want to pay, but you should know if you are chatting with a cam girl, and that your only chances are for a virtual date.
Why is FlingHub.com an Online Dating Scam
The site claims that it doesn't use virtual profiles, and then states just the opposite.
If you have a look at the explanations about the profiles you may encounter on the site, you can very quickly get lost in all the descriptions.  First, they say that they don't create phony women profiles and warn against third-party agents and online identity fakers who may use the chance to present themselves under false personalities. Then, they say that they employ people who work to improve the services, send promotional messages or just simply work as marketing agents. All right, if that is all, you may think, I don't mind being pestered with that from time to time. Then, just in the paragraph below that one, you will slowly start to uncover the truth – they DO send "occasional messages" with "occasional" being the key word here because there is no limit to the number of messages that can be sent in that capacity:  


FlingHub.com mixes the staff profiles with the real profiles and with the cam girl profiles.
Obviously, you don't need to guard against the staff profiles who may send boring chat requests and upgrade prompts only. There is one additional issue with FlingHub.com that makes the things truly complicated – you now can get prompts from cam girls, too. You might be aware that webcam services often work by the rule of affiliation and often don't have control over the behavior of the cam models, albeit they do set policies for engagement. Just add to this mix the moment of no control over third-party providers mentioned by FlingHub.com and it becomes clear that you are getting into a very hot lava of messy services which may be to your detriment if you don't open your eyes. Have a look at how that looks on the site itself:
Cost to Join FlingHub.com
Here are the costs of the subscriptions on FlingHub.com, right from the oven of the Terms and Conditions: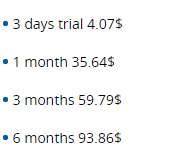 Our Overall Fling Hub Review Grade:  "F"
The hook for a scam is placed on multiple places on FlingHub.com. I wouldn't raise my hopes too high in terms of having a smorgasbord of over a million members to choose from. It does sound nice, but from my experience, fake dating sites often state unrealistic database numbers just to excite new members. This is a pretty risky place, with tricky similarities between users, cam girls and staff profiles – all made with the intention to trick inexperienced users into purchases. There, now you've got some experience!