I enjoy debunking scams and XFriends.com is the latest. The casual sex site fraudsters have been facing serious competition lately. Finding good dates is getting more difficult and being scammed gets easier. No wonder then that scenario is on the agenda when 95 percent of all services for adult personals are fake.
My XFriends.com Review
The exclusive offer on XFriends.com is not exclusive at all, particularly if you consider how much you need to pay to get in, and how careful you must be to avoid hooking up with a cam model that will charge extra cash for tokens. Let's look into the so-called special services, available only in the premium subscription – it looks like a regular package to me:
Sending and replying to chats
Including contact information
Priority search position
Seeing unlimited number of profiles
Sending unlimited kisses
Premium profile indicator
Priority support provision
Live webcam chat
Not only does XFriends.com link to XFriends.com Live which is a cam site, but it also links to another, already reviewed, a fraudulent hook-up site called Up For Sex. So, we not one, but two con agents: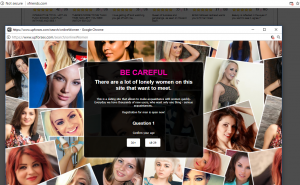 Why is XFriends.com Not Your Place for Hooking Up
The site charges auto-renewing memberships. You know how tricky can get when you forget to cancel recurring costs, even more, when there is a risk to get ripped-off by webcam services that you may have accidentally bought from the connected cam site:
"Your subscription will renew on the original purchase date of each month at the listed rates for Site effective at the time of Your registration and in accordance with all of the terms of this Agreement."
All beginning communication will be automated and computer-generated. Just when you provide your details for registration to this adult dating service, you are starting to receive a flood of messages from the Quality Control Agents (QCAs). QCAs are this hookup site's fantasy members, known under many different names on other scam hookup apps:
"By registering with Site, You understand that we may send You communications or data from Site regarding the Services, including but not limited to (i) notices about Your use of the Services, including any notices concerning violations of use, (ii) updates, and (iii) promotional information and materials regarding Social Logic or other products and services via electronic mail. We give You the opportunity to opt-out of receiving electronic mail from us by following the opt-out instructions provided in the messages sent."
Follow the development of the messages stream on the three proof pictures below. The first is a snapshot of my inbox – it reads 25 messages.

Then again, when I tried opening my inbox there was nothing there, no message, nor any other alternative flirty method of communication. This proves that XFriends.com places an untruthful number of messages just to lure in users into thinking that they have amazing chances of hooking up:  

In case you weren't aware how virtual profiles work, here is a quote from the site Terms to understand their role better. On XFriends.com they are called Quality Control Agents. The Terms also include a provision which states that QCAs not only don't meet users, but they are also forbidden to do so:
"Social Logic also offers its subscribers access to Quality Control Agents (QCAs) for the purpose of entertainment and communication. You understand that QCA profiles represent no actual live person and the text and images contained in these profiles do not represent any real person, any likeness can be considered purely coincidental. A QCA may likely contact you for the purpose of entertainment via kiss, hotlist, message, email notification, instant message or any other form of communication or interaction within the Site to enhance your enjoyment…"
Price Tag
$24.99 a month or $74.97 total
$29.99 a month
 Busted or Trusted?
Hooking up for casual sex has never been easier in real life, but it is also getting increasingly complicated with so many scams around. XFriends.com will rip you off just to advertise webcam rooms and more shenanigans that include adult movies and links to worthless sex-related products which you don't need.