For a country that has so many affiliations with porn, I'm surprised that I didn't find the specific Czech agency by now. Vice Blondes turns the tables in that aspect. Here comes the Czech escort agency with an artsy take on the home page that is specified only for blonde ladies. Let's get into this Vice Blondes review to see what is the truth and separate the lies from the facts.
Vice Blondes Review: Prague Escorts
This escort agency manages girls in Prague. If you've ever been to Prague or even just heard about Prague, you'll know that it's a famous stag party location, especially for European travelers. Also, a lot of sexy girls who are famous porn stars and act in Hollywood come from the Czech cities.
There isn't much information about the agency specifics on the website, but it includes links to famous escort directories, such as Euro Girls Escorts, World Escort Index, Open Adult Directory, the Punterlink, City Love Guide etc. I've worked on many of these escort websites in the past reviewing them and comparing them to free adult dating sites. You can read more about these escort reviews in relevant posts on the Adult Dating Patrol. Now let's find out the specifics of the ViceBlondes.com.

How This ViceBlondes.com Review Links to Porn and Cam Sites
My worst suspicions come true when I see that an escort directory or a fake adult dating site is linked to porn sites and to webcam sites. As you can see, the bottom of this website contains several such links. If you click on any of them, for example, the "blonde lesbian sex" link, you'll get to a typical porn site with free videos.
The same happens if you click the cam service links, too. You'll open a platform for cam rooms, cam girls and paid virtual sex services. Girls' faces are not clear so you will never have a guarantee who you are hiring even if you like to hire an escort girl in pay for it.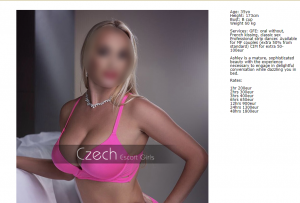 Finding Your Way Around Prague: The Candid Commentary Report
The 'Commentary' section contains various information about finding your way around Prague Here is what you can read about:
Czech Agencies Outside Prague

Absinthe and drinking in Prague

Bring your escort girl to Lesser Town in Prague

Take your escort girl out of Prague

More than pure beauty – Prague call girls

Popular food places by the river

Prague brothels

Beer tours and party options in Prague

Good night rest near Prague  

Swimming locations for the summer

Hiking and walking tours with escorts
In all their glory, I would be doubtful about the information in these articles!
Conclusion About the ViceBlondes.com Report
This escort agency is not that different from other eastern European escort agencies. To sum it up, there are plenty of risks of meeting with an escort girl on a website that is connected with adult video content and cam rooms.
In addition to the typical risks coming from having sex with prostitutes, you can get into a lot of local trouble if you follow the posted advice. I recommend keeping away from these types of websites altogether and using legitimate adult dating sites which are free and provide verification for its members.