This website is in Spanish in original. Although it says it provides an English version, it doesn't provide one. But you can always use Google Translate to get the details, which is what I did. Evidently, you can book girls in Panama, Colombia, and Chile. But this domain is for Panama girls in particular. There are about 20 of them and all have pictures and detailed descriptions about the services. It's a smaller local agency. What can you expect if you want to mess with Agenda Escorts from Panama? Let's find out more about that in this Agenda Escorts review.  
Agenda Escorts Review: Facts and Figures
Here are the facts about Agenda Escorts. It looks a lot like fake dating sites, including fake profiles and webcam links. What's weird about this escort agency is that the webcam links are missing. Cams are always just a bait for getting money out of you. In this case, you will pay for the girl, for the agency fee, and you can be charged extra if you browse the cam room links.
Since Agenda Escorts doesn't include the room links, I assume the escort agency is not quite up to it due to lack of time. But these links are usually fishy and you should stay away from them. Most of my followers are looking for casual hookup site reviews, in any case, so they are not interested in hiring escorts.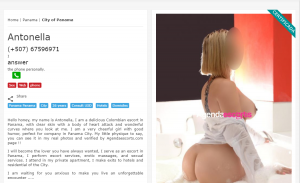 Keep an eye on how escort sites twist the truth and the descriptions for the services, making them look like they are classified ads. Many users who search for genuine dating opportunities fall for these tricks. It's a common scam for fake escort and dating sites. Still, many people fall for it. How this happens, it beats me. But escort agencies can be very conniving and charge you in alternative ways, through memberships, commission fees, and cam tokens.
What About the Figures?
Rates seem quite cheap, starting from $80 per half an hour to a few hundred per hour. Compared to some of the western escort directories, especially in the U.S., Europe or Australis, these seem like a bargain.
But the truth is almost never fully exposed on the website itself. Once you start getting more interested in hiring a specific girl, you'll be more likely to dig deeper into the full expenses.
Since I don't really speak Spanish, I might have missed something on the website. If you have a friend who does, it's worth asking for a favor to help you discover some more of the dirty tricks which are not included in this Agenda Escorts review.
The Outcome of My Agenda Escorts Review and Tour
Can you guess what's the final outcome of the Agenda Escorts report? It sucks, and it sucks big, that's what I think. There are no genuine profile pictures – most of them are photoshopped. Oh, and I should mention that I really hate fake profiles!
Girls are only a few dozens and not all of their profiles are verifies. General risks connected with hooking up on escort websites remain. In the end, why would you pay for getting casual sex? There are pain-free and cost-free ways to do that, such as using hookup apps.