This Australian escort agency provides escort girls in Melbourne and Sydney. It says it is about classy girls. So, if you're interested in communicating Mona Lisa Models, then you must be gentleman?! At least that's what the advertisement says. What happens behind the curtains, though? I peeked behind the curtains to take a tour and explain what you can expect if you decide to improve your sex life by hiring escort girls. Now, let's dig into this Mona Lisa Models review and find out the truth about its features and content.
Mona Lisa Models Review: The Whole Story
For what It's worth, the models on the pictures are not dressed in lingerie. They do have sexy outfits, dresses, heels, and stuff. Some of them, especially those on the homepage (if you think that they're one of the models) do wear sexy bras and panties. Mona Lisa Models tries to justify its "classy" label by taking this approach, I guess.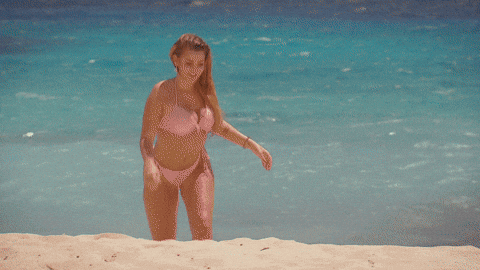 Once you get to browse the full display of pictures, you'll find sexier photos and the profile descriptions, including the girl's origin, physique, height, sexual preferences, and her rates. Naturally, the rates are very expensive even for an escort agency. A rate of 1,200 dollars per hour is too much.
If you like one of the girls and decide to book her you, need to fill in an online booking form and provide as many details as you can. Then you need to wait for the online coordinator to contact you and arrange your date. The usual response time is 6 hours.
How to Submit Mona Lisa Models Reviews
Mona Lisa Models provides an option for you to submit a testimonial about your experience with the girl. I'm not sure if this will be of use to clients, especially because it seems that the reviews are only made for the purpose of the agency. Internal control is nothing that you can get benefit from. I don't trust escort agencies that don't display the reviews publicly on their website.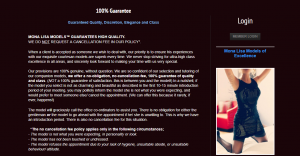 The guarantees this escort agency provides is their selective model policy and the fact that they do not require a cancellation fee. Although this argument can be in favor of the agency when I can't see what others think the service will always be based on a one-sided opinion. That's not good enough for me even if I try to check what's going on in an escort agency. Which I rarely do, because I find all my bang date on adult dating sites! If you decide to submit a model review contrary to my warnings you need to fill out the box. below the model's profile description and submit it to the agency.
Alert: MonaLisaModels.com.au Gyps You!
For illustration purposes, here are the rates of the most expensive girls on this website:
2 hours: $10,000

3 hours: $12,000

4 hours: $13,000

6 hours: $16,000

12 hours/ overnight: $20,000

24 hours/ full day: $24,500

48 hours/ weekend: $34,000

4 days/ &farc12; week: $45,000

7 days/ full week: $65,000

14 days/ 2 weeks: $85,000

1 month: $180,000
I'm not sure who is willing to pay this much to hire girl even if it's for a full month. But I'm definitely not the one to do it! Why would I ever spend so much money when there are so many free hookup sites where you can have fun without wasting your monthly budget? First, try your luck on casual dating websites by following the tips and tricks we have provided on Adult Dating Patrol. Then, let me know whether you will ever look for sex again on an escort website!