As promised, I'm taking my time to untangle the convoluted mix of multiple adult directories that carry similar names. Just a while ago, the AdultDirectory.co review was on the agenda. Today, I'm investigating an escort service with a very similar name. The results of my investigation exposed something totally else that has nothing to do with the previous review. But it does have plenty in common with typical commercial dating business models of escort sites and many adult dating scams. If you're not up for the ultimate review, read this Adult-Directory.com review further.
Adult-Directory.com Links to MassageEurope.com
The domain name is just a hoodwink for a chain of massage parlors across Europe. Naturally, this is not your regular massage. It is the 18+ "massage", including various sex activities that are hidden behind a fancy-schmancy name. Massage parlors are located in multiple European cities, mostly capitals, but some of them are in larger cities in provinces. Main services are titles as "Erotic Massage" and "Body-to-body massage".

There is no in-depth description of these because I think we all know what they mean. These fraudulent businesses find multiple inventive methods to sell sex, and they will call it even cuddling! Yup, that's the truth, so if you encounter an adult site providing cuddling experiences, you'd better check its credibility twice. Unless you are looking to pay for getting laid, in which case I'm not even sure what are you doing on Adult Dating Patrol!
Adult-Directory.com's Expensive Booking System
In order to get to a girl, you really need to invest some effort. I have one big reason to doubt that you will get what you want, regardless of your location. There isn't a real active gallery of the call girls, even though you can search by cities. The same pictures show up on multiple locations. My Adult-Directory.com exposed that even if you look for a specific city, you have to fill out a complicated form to get access to some more information.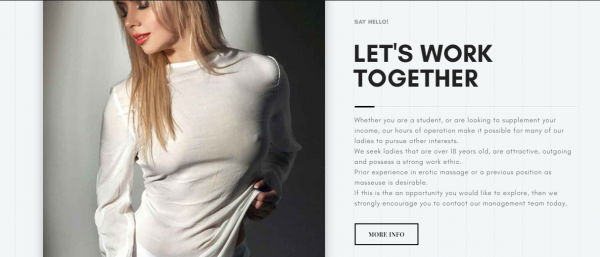 I'm not sure how this website intends to lures users because they don't provide much! They ask for a lot in return. I'm not sure that many rich clients would like to give personal information without any guarantee of security and safety. I couldn't find any user reviews. That's another disadvantage of this dubious massage site.
Girls' Recruitment Method
As a matter of fact, they are recruiting girls as we speak. In order to be considered for a position, girls must have some experience as masseuses. But, since it targets students and other women who like making something on the side, Adult-Directory.com (or MassageEurope.com) obviously charges commissions and organizes everything on behalf of the girls. If I hate escort services, I hate escort agencies even more! And that's what you're getting into here. I'd recommend staying as far from various dating scams, massages, call girls, etc. and keeping your eyes on the real prize – free casual dating sites!
Wrap-up for the Adult-Directory.com Review
Simply put, don't expect much! I wouldn't even advise spending the time to do your own research. If you really have time and money to waste, as well as expose yourself to a number of health and safety risks, at least try one of the more prominent escort directories. Otherwise, you know my general opinion – get laid for free!
How do you get laid for free you ask? Well, it's certainly not using this site or any of the others similar to it.
If you want to get laid for free, the very first thing to do is read the homepage. The next thing to do is take action based on what you read there! #BOOM