Here is just another classic example of fraudulent dating services, known under the name of Swipebang.com, but I am sure that I have found the same interface and the same site design under another name, a fact that confirms that the same scammer business stands behind this multi rip-off.
The same company obviously just thinks of new ways to con you into paying with cash, placing the same services and false claims in a new packaging to use the same trap. Apart from the (extremely) negative reviews I found for Swipebang.com, it didn't take long until I got them by the neck and unveiled their dishonest working policy.
Authenticity
I wonder how has Swipebang.com stood up on the market for so long. Believe it or not, there are still so many people who want to find a sex date online and cannot keep up with the manipulative intentions of so-called dating tools and apps, staying behind them on the road to getting laid.
Professional tricksters use the naivety of poor decent people who like to meet someone online for a hookup (and more) but just keep falling for fraudulent addresses, such as Swipebang.com. Just look at how many people complain about Swipebang.com services: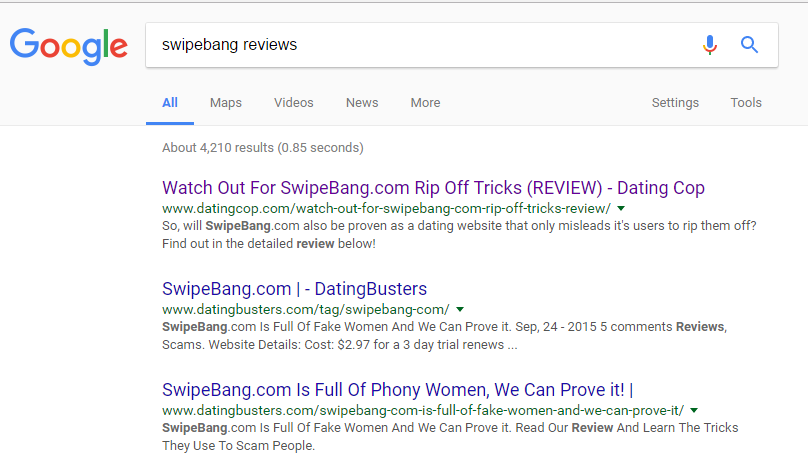 Why is Swipebang.com a Fraudulent Dating Site
Almost all well-known deceitful methods are at play on Swipebang.com, I can even say that they haven't put much original effort into wrapping up the classic scam into new paper, they just made sure to apply as many fraudulent methods as possible.
Swipebang.com uses virtual Love Stars.
Again with fake profiles. No rest from this scammy way of attracting more people to join, chat, upgrade or buy one of the bonus services. You may think that you are talking to a nice, cute, sexy girl, when you are actually getting slowly cooked until boiled into submission of buying an advanced service for which, somehow surprisingly, you pay hundreds of dollars and just can't seem to live without. You may not be aware of this unless you read the Terms and Conditions for the site use in detail: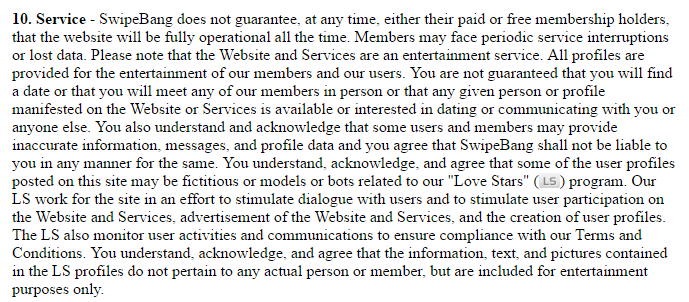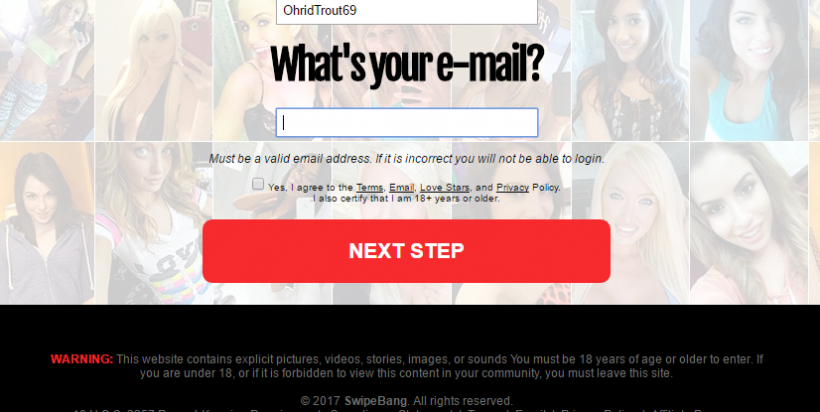 Sole responsibility for the site use on behalf of the user.
Most reputable adult dating sites with a great PR and bouts of tradition have earned it by taking care of its most important asset – users and members who feel safe to provide their personal details and credit card number to a company that places a high value on safety, protection and privacy. However, Swipebang.com is not under the burden of such accountability and wants to leave all issues into the hands of innocent members who join with no protection whatsoever: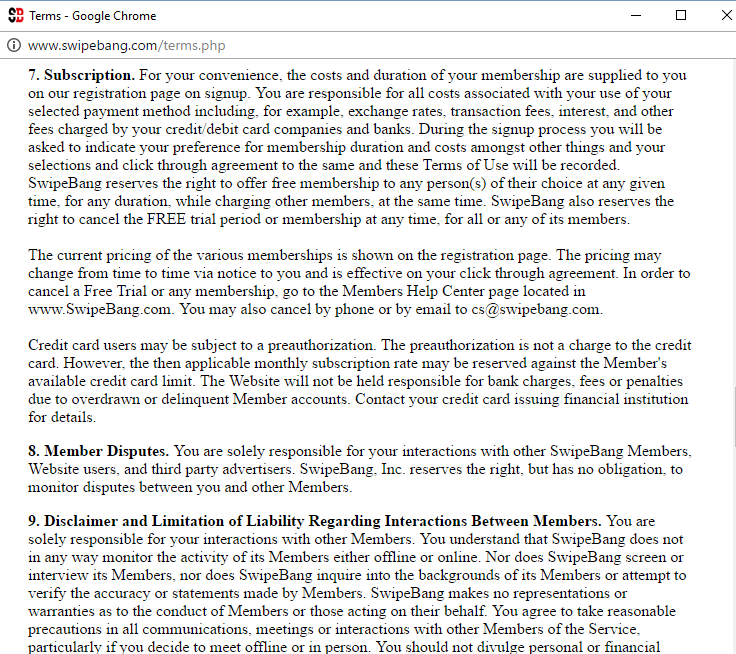 Hidden credit card rip-off.
Swipebang claims that it provides free membership. But wait just a second, until you get to their signup page to finalize the registration. You will be asked to provide credit card details for verification purposes. What verification purposes?

The scam becomes painfully clear afterward when you notice the small box on the right that explains the costs in more details – and even has one box checked – if you are not careful, you get scammed to the bones: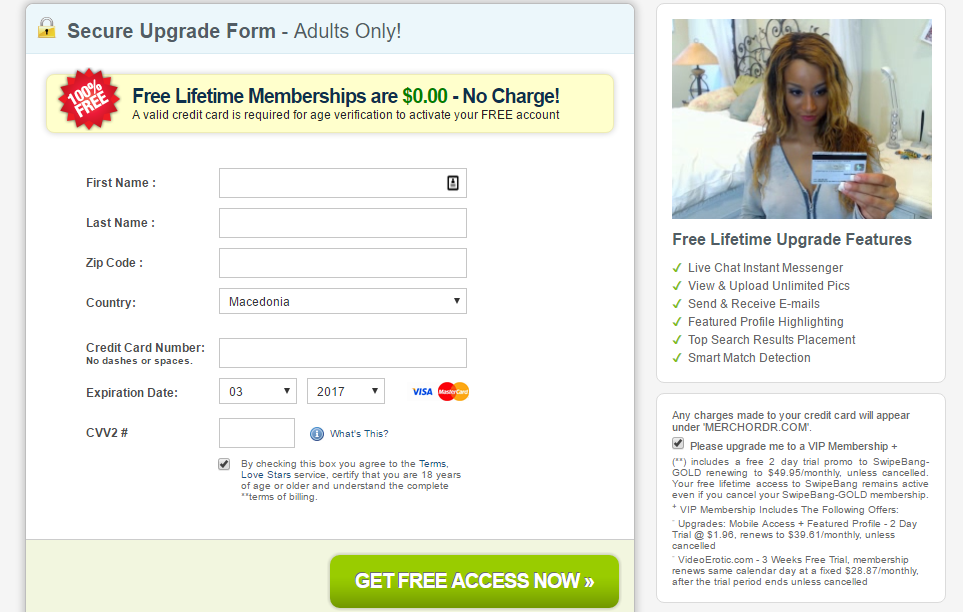 Limited messaging only for basic members.
Just as you thought you are getting some headway with a girl, you will notice that you can't send messages. Well, this is just another fishy rip-off technique that will cut your budget short for nothing, and prove that Swipebang.com does not provide free membership at all. It only uses the catch until you try communicating and hooking up for real.

A false number of members by location.
Another evidence of Swipebang's deception is the automatic assumption of members in 'your area'. For example, when I joined I haven't yet provided a location when the site started claiming that it will hook me up with 1,000 active users from my area. I assume this is just a random guess to make members feel that they have plenty of chances to get laid, while in reality chances are close to zero or non-existent.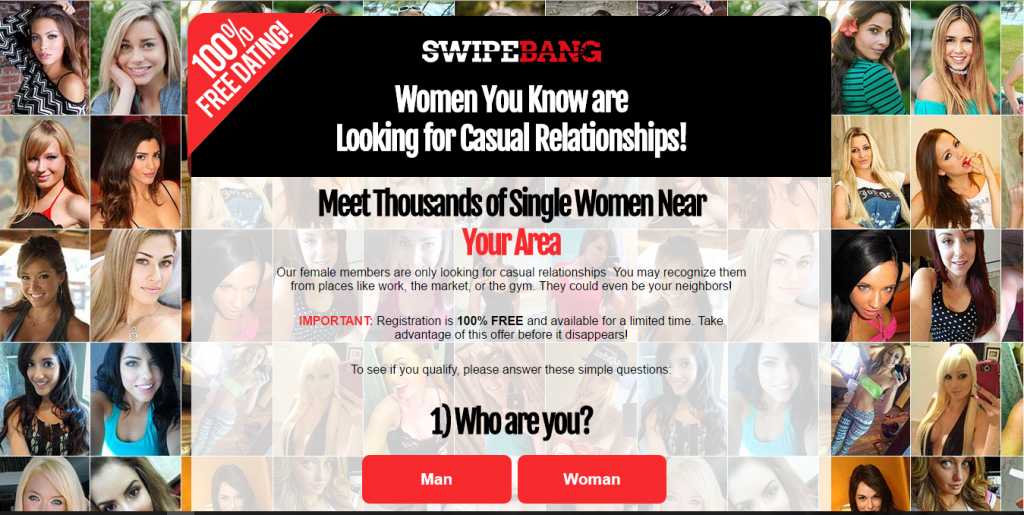 Price Tag
Nothing is free on Swipebang.com!
2-Day trial in the Gold membership is automatically renewing for $49.95 a month.

2-Day in the VIP Membership is $1.96, renews to $39.61 a month

VideoErotic.com costs extra (another thing you don't need on a dating site) $28.87 a month
Busted or Trusted
I wouldn't give credit to Swipebang.com now, or in the next lifetime. It is forever put in my 'black book. In case you don't want to end up suffering from the worst rip-off ever, make sure that you stay far, far from Swipebang.com In my short tour, I collected more than enough proofs to never, ever think of finding a date on a scammy site such as Swipebang.com. Take a tip from an experienced dater and follow the leads to real adult dating sites.