SteamyLocals.com is a hookup application of commercial nature. This is one of those adult dating services which have found multiple ways to take the money out of their customer's pockets. If you see the notice "free" around this hookup site and base your registration decision around that, you have fallen for the scam. Read below to learn more about all ways in which SteamyLocals.com is not free. And don't feel bad about yourself if you paid too much. Most people get them wrong.
Authenticity
A number of people who like to get laid by using online dating sites do so before they can get in touch with local flings. They can find the right people for them who live nearby. What's better than that? It's convenient and effective. Location filters have made everything easier. Yup, but only when they are included in genuine dating sites. When the nature of the hookup app is commercial and fraudulent, many features are blown out of proportion. Especially when the scam is performed by an experienced company that develops multiple copies of the same website.
Here, the company name is Bulova. These hookup scam pros never fail to disclose various aspects of their work in the Terms and Conditions. But people still use them. I assume because they get them wrong. So, here are the overblown promises by SteamyLocals.com you should take with a reserve:
Online dating deals done quickly. Yes, everyone likes speed, but no one likes being fooled by this.
Dating site for local meet-ups. I know that you want to discover the best local hangouts, but watch your step when it seems too good to be true.
Where locals seek love. Well, this is a casual hookup site. While finding love is possible, watch out for losing your monthly savings.
Talk in chats and meet new people: Maybe, but at what cost?
Why is SteamyLocals.com A Fake Hookup Application
Here are the five common things most people get wrong about SteamyLocals.com:
SteamyLocals.com is associated with a Group of Websites 
Although the site may look cool, nice and modern it is just a very similar copy of many others. Yes, SteamyLocals.com is not original. It perpetuates the same hookup scam executed by Bulova network. This means that your profile data will be multiplied by the company on their other websites. This is something you should be aware of before you subscribe and upload everything that you upload. Have a look at the snippet below to learn more about what can happen to your profile data once it is on SteamyLocals.com: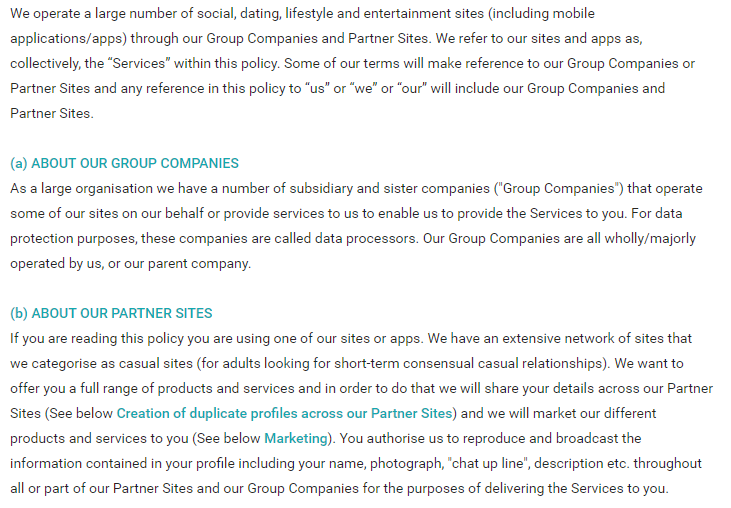 The Hookup App Sells Custom Paid Messages
If you are not a great communicator, you can get assistance in the shape of custom messages. However, all custom messages are monitored – namely for security purposes. When a problem is discovered, they can be changed by the right of discretion kept by the hookup app. I don't know about you, but this is not the way I would like to communicate on adult dating sites!

SteamyLocals.com Uses Promotions Called Activity Alerts
In a nice package under a single name, SteamyLocals.com combines both virtual profiles and computer-generated messaging. Once you become a member, you agree that you will be a target of all these promotional fake bunks. So, if you haven't noticed so far – the person you are chatting to may not be a real person at all!

The Free Registration is Worthless: Commercial Services
The classic lie told by many fake dating applications is evergreen. SteamyLocals.com will lure you in via the free registration and give you a big zero for free. A big, round potato. That is what you are going to get for free when you register. Everything else is free and expensive, especially the live cam rooms:

SteamyLocals.com Sells SMS Communication Deals
This fake hookup application has truly engaged in financial debauchery. It is no wonder many people fall prey and get the chat wrong. You must throw in some bling for the services. As far as SMS deals are in question, keep in mind that they are charged on top of the basic subscription costs:

Price Tag
$4.98 for a three-day trial subscription
$34.99 for a one-month subscription
$59.97 for a three-month subscription
$95.94 for a six-month subscription
Busted or Trusted?
Again, I hope I have helped you with exposing all tricks applied by SteamyLocals.com. Hopefully, now you will not be an easy scam prey. I also think that you will get fewer things wrong and push against the fraudsters by helping other members. When you see too many featured communication aspects, watch out. You will probably just need to pay separately for each and every one of them!