With so much exhaustive information about escort providers, you'll get a decent read from SkiptheGames.com. You'll learn a lot about how to act on escort websites and what to avoid. However, remember that this is not a free dating service. Users are often unpleasantly disappointed to find out that what they thought could be something more, turned out sour. If you did this and paid a lot of money, you're not alone. It happens often with escort providers because people go for the picture and, in reality, things turn out differently. Therefore, read this SkiptheGames.com review to find out how escort services work.  
SkiptheGames.com Review Essentials
The design of this site is pretty simple. Usually, escort directories don't have that much attention-grabbing content since they leave it to the providers to create the content ad. They only provide some sort of platform or framework.
Models choose the photos and how they will present themselves. So, the site places no guarantees about members, but it does give you warning about what could go wrong. And with paid sex, plenty can go wrong – ripoffs and STDs are just a few typical examples.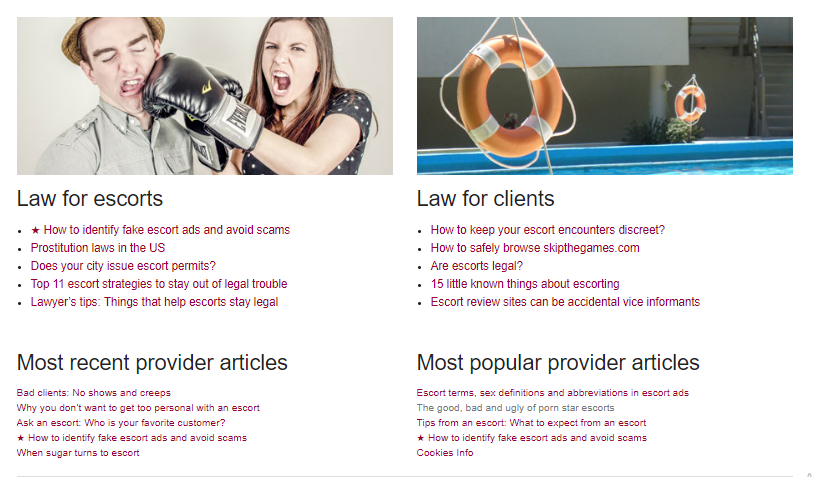 Profiles:

Click on the girl's profile to find out more information. Pics are photoshopped, and lots of Asian girls, not that I mind, just to keep you up-to-date. Many descriptions are placed by escort agencies, making SkiptheGames.com even less credible.

Content:

So much content about escort rules will definitely serve those that have no clue about the business. You may even find two or three pieces of information jewels about fake dating and adult dating scams.

Articles:

Apart from advice about clients, there is advice about providers, too, including health, fashion, and beauty tips, and everything in between. Weird stuff that will attract escorts!
Six Submenus on Skip The Games
All content is organized into six sections, but you should skip some of these since they are most relevant to the providers.
Escorts and Law: Explaining what are the rules of the games when you want to find, meet and arrange an escort date, what's appropriate, and how can you avoid fraud (like this).
The Business of Escorting:

The "who is who" and "what is what" of escort providers, including articles about expectations from porn star escorts, for example.

Health and Safety of Escorting: What to pay attention to when you arrange escort dates. I guess you can find some good info here and apply some of the rules on free adult dating sites.
Beginners' Guide:

Avoid all newbie mistakes by reading the tips and tricks from the more experienced. 

Escorts in the News:

What does mainstream media say about escorts? Find out the truth and the lies.

Why Escorts? I'd say:" Why NOT escorts?" – and I can give you plenty of reasons for that in most of the Adult Dating Patrol's escort site reviews.
Free Casual Dating on SkiptheGames.com? NO WAY!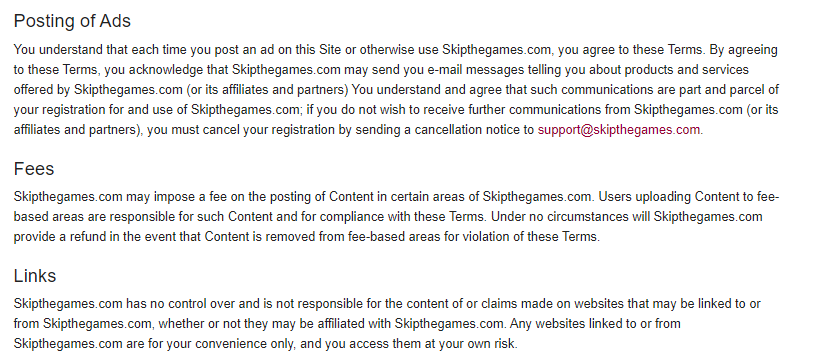 If you followed closely everything that I've posted above, you'll know that there is no chance of ever getting laid for free on SkiptheGames.com. Extra insights come from the "Ad Rules" section in the Terms & Conditions.
The website state that providers can advertise for free, which is not a true fact since the T&C discloses a different truth. They still need to pay. The main service doesn't provide any support on both end. It is not a service with 100 percent QA, so it's best if you look for other casual dating service providers.
Now, having said that, my guess is that you're still looking for a solution and you're hungry for sex. If that's the case, then you're crazy not to take the dating offers listed on this page here. I have covered just about everything you can possibly imagine when it comes to hooking up and getting together with people out in the local area looking to smash.
Sites Similar To Skip The Games & Related Posts
Here's a quick list of posts that I strongly suggest checking out TODAY if you're searching for Skip The Games reviews. These will help guide you to finding safer sex – trust me!
---