If the site has over 260 K escorts, do you have better chances to get laid and find a date for free? Not a chance! Escort sites are based on the principle of commercial advertising platforms, and if you are looking for free hookups, don't waste your time on sites that ask for money! They use various strategies to suck the money out from the providers and from the users, giving almost nothing in return. This 5 Escorts review proves the same once again. So what can you expect from the site features?
Is 5Escorts.com Review Similar to Backpage?
In a nutshell – yes. Even the design with the links to various locations looks like Backpage. I guess many companies use the same pattern to attract users by offering the ease of use with all links included. One other reason could be that the multiple locations create an impression that the site is very busy. It's true that there are rich resources in Canada, the U.S., and even Europe, but there is no sure way to verify them. And you know the risks that accompany unverified contacts on the Internet, right?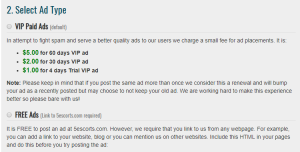 What are all the dangers that lurk in the corners of 5Escorts.com?
Adverts for Escorts
This is on the providers' side, but it's good to know what you can expect so that you have an idea of the costs. But one thing is for sure – you're not getting any free sex, you'll need to pay for anything that's on this site. How do the girls advertise? They have two options:
VIP:

it requires periodical payments.

Free:

it requires setting links to 5Escorts.com.
In any case, the services are not free, and by this point of the 5 Escorts review, you get to understand that the service is a rip-off.
Sugar Babies Links
Sugar babies platforms are nothing else than fake dating websites that provide sexual sponsorships. These types of services can cost you way more than you bargained for. The least you can pay is the hourly rate. Most of the girls expect a full wining and dining treatment, and many even more – gifts and luxurious getaways.
Meet & Fuck Platforms
This is just another way to pull the wool over your eyes. Under the guise of free dating websites, thousands of inexperienced newbies get ripped off by hundreds of dollars if not more. If you know what I'm writing about dating scams, you'll be more vigilant with these links.
Cam Rooms
5Escorts.com has a link to Camonster, a paid webcam service which requires tokens (read: lots of dollars) to get into the panties of the hot girls only on camera. C'mon, you don't really need me to tell you how cam services work, right? Are you happy with getting sex in the virtual world, and paying for it? I know I ain't!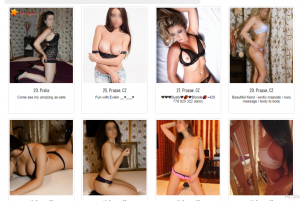 Judging by the pictures posted on the site (if they are real) the escorts are really hot, and you will be paying high rates to meet them. I had a look at the models in Prague, and I loved them, but I am not happy to pay that much money for them!
The Key Outcome of the 5 Escorts Review
In the typical way of commercial advert platforms, this web service entices both escorts and users by offering a way to get in touch. However, with no guarantees and tricky regulations for paid sex, you will not only get in dating trouble, but you can also suffer legal consequences, which include explosive fines you don't want to hear about!