SexDatePersonals.com makes it all about wonderful hookups and fun among a potent dating community. Nice beaches on the front page, sexy people and cute pictures are good for the eye. But when they are not good for the pocket, they are not backed up in reality. Don't waste your precious time here, because it's full of fabricated profiles.  Fake profiles confuse you and create troubles for finding casual sex hookups.
Authenticity
It's not the first time that we are meeting with the fake profiles called Online Flirts. We've come to meet them quite a few times. This is often a surefire way to tell that the fraudulent company is ripping customers off. When the site documents include convoluted provisions, such as these on SexDatePersonals.com, it becomes more than obvious that they don't like telling the whole truth. They're hiding something. rates are unclear. Discounts and the length of the membership offered on SexDatePersonals.com are covered in fog. You should know that they've dropped the ball. This hookup site is more than certain an online dating scam.

Why is SexDatePersonals.com an Online Dating Scam
Fabricated profiles are present on 90% of the fake online dating sites. The number may even go up to 100%. But, since not all of them state clearly that they're working with fake profiles, it's difficult to evaluate precise statistics. In the case of SexDate Personals.com we have a proof: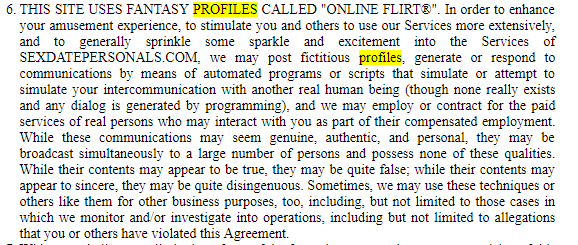 Online Flirts: Fabricated Profiles that Are Digital Bots
The fabricated profiles impersonate real women, engage in communications with the users, send instant messages, reply to emails, sent winks and flirts, as well as other communication tools available on the website. Below is an excerpt of the regulations that explain what is actually going on with the communication on SexDatePersonals.com:
By "total fakes" we  mean to include profiles that are total fiction, pure and simple, posted by people who bear no resemblance whatsoever to the identity described and we mean also to include communications generated by people who are deceiving you in every regard about their identity, description, and motives and communications from scripts and programs operated automatically to deceive and mislead, which may not actually not be transmitted by any real person at all. 
Produced Messages Create a Communication Mirage
Now you're pulled into the scam totally; you browse for real women – you get fake girls. If you try to start an honest conversation and arrange a hookup, you get communication blackouts. There is really no way for you to find a decent date here so you'd better spend your time elsewhere.
While these communications may seem genuine, authentic, and personal, they may be broadcast simultaneously to a large number of persons and possess none of these qualities. 
Price Tag
Gold membership: $29.95 per month
Silver membership: $19.98 per month
Busted or Trusted?
In case you've missed the frauds of organized adult dating companies that work with several websites on a network, please go ahead and test your luck on SexDatePersonals.com. On another note, there are plenty of genuine dating sites where you can find what you're looking for. Sometimes it's worth paying a bit more to get decent dating platform and start getting laid for real.