.RedHotPie.com has a unique interface and it doesn't look like anything we have seen so far in the world of online dating scams. This is why it deserves a more careful approach in investigating how much of its features are real and how much is fake. We have suspicions that believe that it's not completely genuine. Let's find out now what's truly happens on RedHotPie.com.
Why is RedHotPie.com a Suspicious Dating Website
We have more than one reason to believe that RedHotPie.com is using dubious methods to attract users. It hunts geographical locations. You can choose between dating in your area with filters that use continents, countries, and cities. You can also filter out specific dating niches and target your preferred audience. The registration page is made with your email account or with your Facebook profile, which as you are aware poses risks to your privacy. It interferes with all your data that is already provided to the Facebook platform.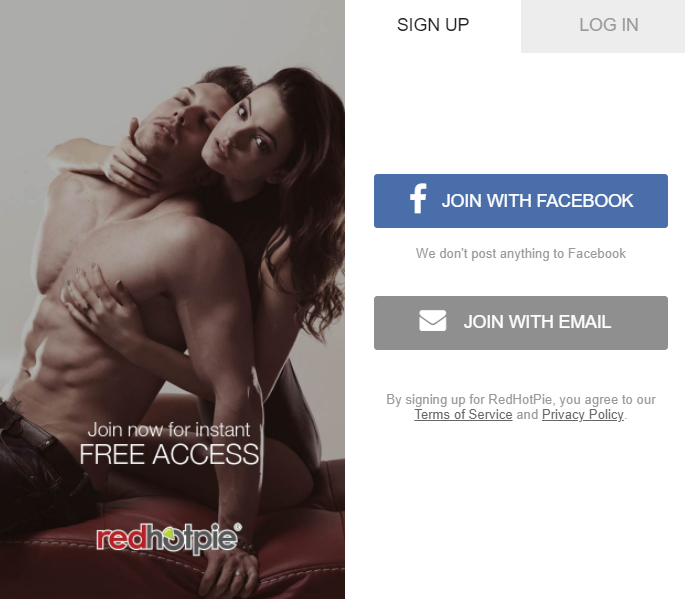 What else is there?
A set of "extra" premium paid services:
Webcams
Ask other members to enter into "Private Chat"
Send daily messages
See listed members contact details
Access to "RedHot Pics"
Access to erotic stories
Prioritized search rankings
Have guests view your contact details (Platinum)
Have guests send you messages (Platinum)
Promotional Spam Content with Fake Messages
As a part of the marketing policy on RedHotPie.com, you agree to electronic communications. Promotional messages are delivered to your inbox. Among the communications, you can get different content, including advertising products, services or fake messages from fake profiles. This is a surefire way to prove that there are no genuine services on RedHotPie.com

The drop-down menu in the member's area is also very specific. One thing that comes to mind and is very dangerous, and it just turned out to be no further than the similar feature of many other casual sex sites, is the webcam chat. The webcam chat is designed to serve premium members because they're the only ones that have paid. However,  these fake dating websites create cam services and put the cam profiles in the same place with the user profiles. A new person gets confused and all worked out in the room unable to identify what is real on RedHotPie.com
If you investigate anything for a few days, you can confirm that the site is of commercial nature. Be careful when you join the site because of most of the features that are there just to buy one of the premium platinum subscriptions that cost more.
Price Tag
1 month will cost you AUD52.00
3 months will cost you AUD75.00
6 months will cost you AUD105.24
12 months will cost you AUD151.92
Busted or Trusted?
We are not at all sure that you can get great dating success in online dating which RedHotPie.com. Don't fall for the cute sexy name. These types of adult dating sites that have a number of commercial features don't have honest intentions with their users. You might want to check our list of legit dating sites to find what suits your sexual preferences. You can also just test this website – you will be a constant subject of geo-targeting so that the site can find your location and offer you promotions.