Reviewing adult dating sites from the Australian market it's always a challenge because they have specific rules and they're often intended only for the continent audience. This was the case with the Australian AdultMatchMaker.co.au, but we managed to find a way to investigate the features and to see how legitimate it is, W also searched for whether you can land a date or just go home with your hands in your pockets.
Why is AdultMatchMaker.com.au a Real Dating Site
Believe it or not, we were surprised to see that the site is genuine. This was particularly surprising because we know for a fact that many American and European sites use the Australian audience to pull nasty tricks by selling promotional messages and SMS packages for Australians. They get charged extra on top of what everybody else pays for the services. There are still some dubious elements of AdultMatchMaker.co.au but, in general, it seems like genuine dating and real features. What are the special perks of AdultMatchMaker.co.au?
Paid Credits with VIP and Premium Memberships
There is a free membership, but it's very limited. You can subscribe and need to fill in a long survey which is a bit annoying. We must have that fixed because it will take you 15 minutes to think of all answers. Instead of spending them wisely and browse compatible profiles, you need to check dozens of boxes. When you get in, you'll see that you have a chance to find real profiles. The pics seem true and original, not like the usual mess with model pictures and pornstar pictures. You still need to buy a premium or a VIP membership though, in order to be able to communicate with other members and use the advanced features. This is explained in the Price Tag section.

Dangers from External Links and Promotions
On the first tab of AdultMatchMaker.co.au, you can find external promotions which include travel deals and other services and products. These do not come from the main site. AdultMatchMaker.co.au doesn't take any responsibility for the offers coming from this external providers. It specifically mentions in the Terms and Conditions that you need to read those separately to ensure you're dealing with decent and genuine providers.

AdultMatchMaker.co.au Sends Electronic Communications
There is no way you will save yourself from the electronic communications. There are five types of communications on AdultMatchMaker.co.au, arranged in a taxonomy presented in the site documents. But that doesn't mean that this list will make your life easier. You can never tell what hides behind the electronic communications. It can be a disguise or a mask for sending various computer generated content from fake profiles. Unfortunately, that is very often the case. We hope it's not so with AdultMatchMaker.co.au.

Detailed Blog with Sex Advice
One of the best features on AdultMatchMaker.co.au is there is an elaborate and a comprehensive blog which includes dozens of advisors. They try to tackle some different topics in-depth and in detail. You will find many answers to the most challenging sex questions you might have had in your sex dating life, You can clarify many of the unknowns you couldn't grasp on adult dating sites.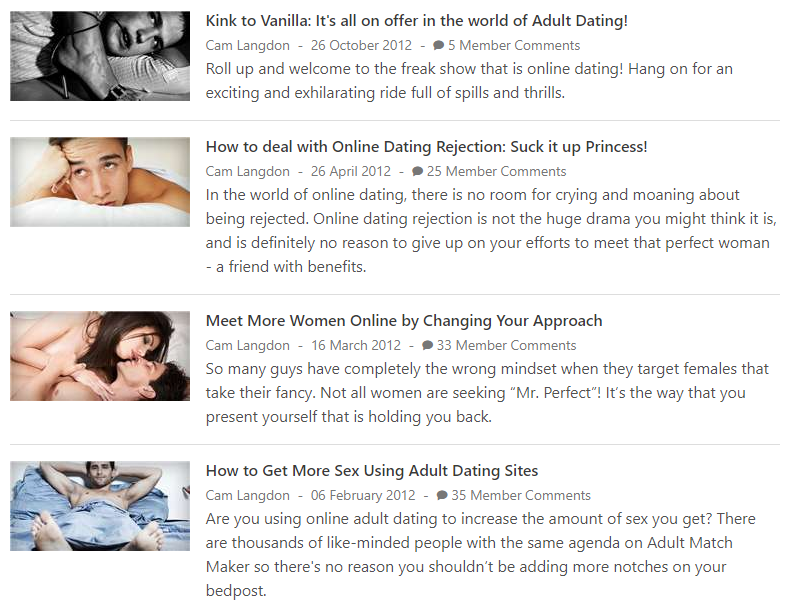 Price Tag
Silver Membership is $25.65 per month
Gold Membership is $36.65 per month
Platinum Membership is $52.35 per month
Busted or Trusted?
The three types of memberships are just an upsell methods to get more money out of you for something that you could have done with the basic membership had you had a knack for online dating. Unfortunately, if you are a newbie, you can think that this will actually serve the purpose and help you get laid faster on dating sites. AdultMatchMaker.co.au is not good in this respect. Although it has genuine profiles, it is best to engage your natural skills and abilities before going for the most expensive subscription.