If I have to review a luxury escort agency I start having a lot of trouble because they mask their services with classy, elegant, and good-looking models and call them travel companions. This is just a justification to charge high expenses and rates which include hotel accommodation and travel expenses on top of everything else you ask from your escort or model. This agency works with male and female models who like to dress elegantly, look for expensive gifts and don't like to travel light and for cheap fees. Let's see what else is available in this agency by reading this Pure-Luxury-Models.com feedback report.
Pure-Luxury-Models.com: Review Cancellation Scam
German agencies are one of the most common found escort service providers. It's no wonder because the majority of the business centers in Europe include cities in Germany and other German-speaking language areas. Therefore, you should be quite vigilant when you book escort models via this website. They are very strict with fees. They're not at all accommodating or adaptable. You have to pay for each service.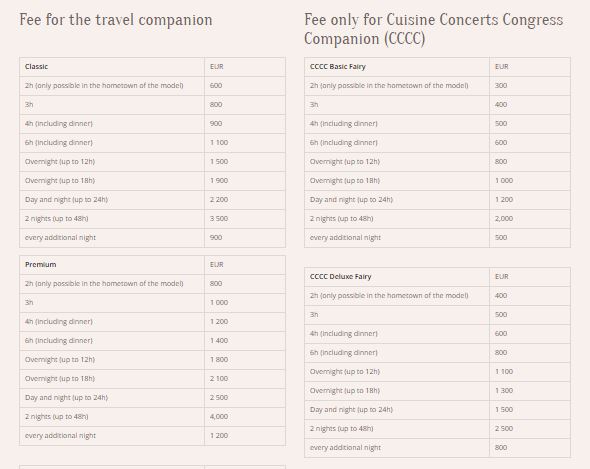 Cancellation fees are high and they have weird "no chemistry" policies. What is behind these chemistry arrangements? Namely, you have the right to cancel the service by the escort but only if you pay the fees which range anywhere between €300 and €500 per cancellation. And this is only if you make the cancellation at the start of your meeting. Otherwise, you need to pay the full fee and there is no way to get your money back if you fall for the nicely pulled advertising, efficiently groomed models, and high-quality pictures. You're doomed to paying high fees despite the outcome of your escort date.
Models' Quality: Fraud Waiting to Happen
There are no guarantees about the quality of the models on Pure-Luxury-Models.com because there are no user reviews. You'll have to take a 100% risk and book the model via the website based on the pictures and the uploaded information with no user reviews and no guarantees from the agency. It's like a make-believe story which can turn out to be anything from the worst rip-off fraud to a delightful traveling companion experience. Is that what you're looking for? Hardly likely. But as I am aware that you are looking for hookups this is really not the place where you should try and test your casual dating luck.
How Escort Sites Like Pure-Luxury-Models.com Are Ripping You Off
I've already reported how much are the cancellation fees. Then you can imagine how much you will need to pay for the full date. If you consider that there are hundreds and thousands of dating websites that provide the same service for free it's really out of the mind to look for casual sex on escort platforms. However, many people get confused because adult personals, escorts website, and classifieds encounters are all sold under the same name. People really don't know what to look for. If you want to avoid getting duped always check the credits of a dating website before you try it out. The team here at Adult Dating Patrol is dedicated to finding genuine sites. In case you have any troubles with fake websites, please let us know in the comments. We'll try to review the site and solve the problem as soon as possible.
One of the other German sites that we've covered here is Krypton Escorts, which is a huge scam as well, in my humble opinion. Don't be fooled by these agencies and their fancy websites or luxurious language. It's all hogwash for the most part.