I've never, ever in my adult dating life came across something so ridiculously expensive such as the Cinderella-Escorts website. I've dealt with several hundreds of cash. Costs that amount to over 1K do not surprise me.
But paying well over $30,000 for an escort girl is beyond belief. Who the hell wants to pay so much money for a hookup, even if it lasts for days?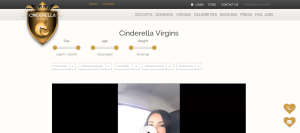 Now, I know what suggestions you are going to make about the potential customers of this escort site, and I totally get you. But do you count yourself among those customers? Of course not! You don't have so much money to part with without regret! This website and its reviews are dedicated exactly to my followers who don't want to pay for getting laid.
Bowl Over the Cinderella Fees
The fees for Cinderella-Escorts are not only huge, they are humongous. I've told you countless times before, and I will let you know once again – you need to hookup on online dating sites for free! Even if you pay, you surely don't intend to spend the price of a house mortgage on a single girl!  
Advanced Payments

Among the FAQs on this rudely aggressive rip-off site, you'll see customers interested in paying with cash. Though I can get where they are coming from, no escort agency plays this game.
So, you will be asked to make advanced payments that include the normal rate, the VIP rate, and the travel expenses. But – there is no guarantee that you'll get what you paid for. In fact, the whole FAQ section is so illiterate, that I doubt it was created by a genuine business.
Apart from possible problems from hiring prostitutes, you can also get into a big mess with unbelievable advance payments.  
Normal Fees Skyrocket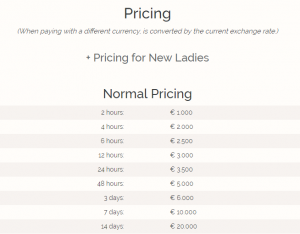 Even the "normal rates" seem ridiculously luxurious to me. They are just a quick bait for those who fall for hot-ass ladies, out of which supposedly there are virgins. Yeah, some people fall for that, at the brink of the new age of dating, and they are not exactly the marriage type material!
Normal rates on Cinderella-Escorts start from $6,000-$7000 and go as high as over $35,000! Watch out for prices presented in euros!
VIP Fees Will Kick Your Ass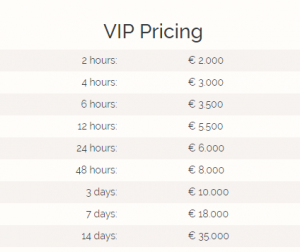 I'm not sure how exactly to make the difference between the "normal" rates and the VIP rates.
What're the criteria for this fake luxury website? In my humble opinion, they only created a variety of packages to get even more money out of your pockets. All the girls seem the same to me.
I cannot confirm whether they are real because all appointments are made by prior consultation and payment, I don't have that much money to throw it in the dump!
Got +$40,000 to Waste?
Unless the answer to this question is affirmative, I'm sure you won't try to hook up on Cinderella-Escorts. That's not the reason I compiled the list of best hookup sites to find dates for free. Use any of them if you want to accomplish your casual dating desires!