I'm not surprised to see that most of the escort girls here come from the Bangkok region. What is Thailand famous for? If you want to search escort girls of this Australian escort agency by location you can find all locations that are close to the "down under" continent – New Zealand, Hong Kong, Malaysia, and Australia, mainly Sydney-based girls. Australia, similarly to the UK, has free escort policies. This enables escort agencies to run business all over the place. Such methods make users get into a whole lot of risks and a big mess. Let's find out what you expose yourself to if pursuing the Flawless Escorts agency. Read my review for details.
Flawless Escorts Review: Opening The Can of Worms!
I never trust escort agencies from the content post on the website. I always do check it before I give it any credit for real. The submenus on this website provide information about locations, tour dates, the membership practice, as well as about the casting methods for the girls. Not one of them is straightforward.
Let's see what are the risks associated with each of them:
Escorts By Country

:  

Not all countries on this website have such liberal policies on escort agencies. You have to be very careful when you get into the business. This is one side of the problem. On the other side, some countries have unprotected policies for users of escort websites. So you can get into a lot of trouble with owners of escort agencies and the girls themselves.

Tour Dates:

Only a few of the girls are touring.

The

y're mainly in the Thai region which means that you need to travel to meet them. This is often convenient and used only as a marketing method for the girls.

Membership

:

I find this membership practice on escort websites extremely dangerous. Agencies are in charge of arranging meetings. They set various membership rates. They set statuses such as premium and VIP memberships for which accordingly you get all types of benefits not listed for regular members. However, this is only a rip-off practice to get more money out of you. Here are the possible memberships:

Exclusive Members: $60 month (Inc GST)  

VIP Members: $220 month (Inc GST)

Exclusive Members: $600 year (Inc GST)

VIP Members: $1,900 year (Inc GST)

Casting: Just look at the picture below! Girls get promises they can earn up to $7,000 per week. It is quite a number! It makes me doubt that if it's at all real. Some things are just too good to be true.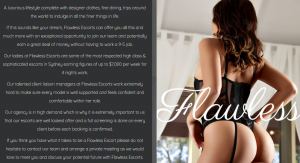 Missing Flawless Escorts Reviews
This is only an advertising platform. There is no input from users. You cannot really make any reasonable decision only from the content of an escort website. Be extremely careful when you try to use this escort agency Flawless Escort. Even more, because I think I've seen some of the pics on other directories and websites.
Risks of Using Flawless Escorts
Although brothels are illegal in Hong Kong, prostitution by itself is legal. Mongering is definitely not allowed. People who do it get into all sorts of trouble. That's why they mask these businesses as escort services. Don't let the name fool you! You know what hides behind it. In any case, you don't need me to tell you about all the risks that come out of using a prostitute for sex! You can in no way compare it to casual hookups.  
I suggest not getting into any trouble while in Hong Kong. It's really not worth the risk at all. Not at all my friend! If you're looking for some fun, you'll find lots of Asian women using dating websites in the local area. It's a safer bet, trust me on this one pal.