I came across this Swiss domain called Private Delights which is almost identical to U.S. classified websites. Then I found out that it is only hosted in Switzerland but that it includes U.S. locations across the country. Having in mind my followers, I decided to cook up this Private Delights review and help them in their casual dating pursuits by explaining what they can expect from the website.
Private Delights Screening Options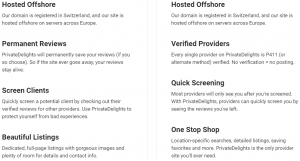 Private Delights gives a lot of attention to providing proof about its content. This process includes verifying user profiles as well as asking providers to submit only confirmed information. Therefore, the girls' profiles seem credible and pretty realistic. If you ask me, this is one of the most credible escort resources. The girls are hot, but not to retouched and photoshopped so that they look unbelievably sexy. Nice photos, taken from good, clean camera angles, but nothing too fancy so that they look like dolls.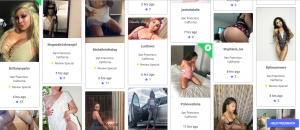 The site has two interfaces: one for providers and one for clients. So it's like a virtual meeting platform for paid sex and all related activities. This is not a big surprise for those that read my reviews of escort agencies.. As we all know, the website service hooks up escorts and clients, taking almost no responsibility for their actions. To be fair, Private Delights seems a bit more genuine, but it's still not free:  
Client Sign-up is for users who like to get in touch with the girls

Provider Sign-up is for the girls who want to offer their services to clients.
Both users have the chance to take part in the screening process of the other side, therefore, all Private Delights reviews should be genuine testimonies on an independent platform. However, I wouldn't take this process for granted as anyone can log in and post stuff that may not be true. Yet, the chances for poor reviews are poor as the website applies a specific control mechanism to check profiles.
What Are the Girls Like on PrivateDelights.ch?
As I said before, the girls are realistic and hot. I guess you get the best of the two worlds on Private Delights. All of the 285 profiles seem genuine. Now, 285 ladies may not seem like a huge number when compared to fake dating sites that claim millions of users. But at least you have solid proof of what to expect. To find what you are looking for, you can search for girls by location, state, and city – you know – the usual method. The menus are simple as they can be, mimicking sites for classifieds. This means no needless mumbo-jumbo and to many external commercials. So what's the role of the website in this exchange? Obviously to set some ground rules, one of which is making the user screening process of others a bit more transparent.
A Proper Way to Do a Private Delights Review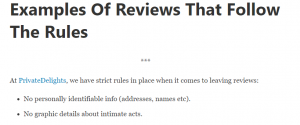 It's really a no-brainer – there are only two very simple rules that concern privacy, decency, and safety.
#1: You should not disclose any information about sensitive details, such as addresses and personally identifiable information.

#2: You shouldn't say anything specific about what happens between the sheets.
Seems pretty straightforward, right? Payments can be done via Coinbase and the Cash app.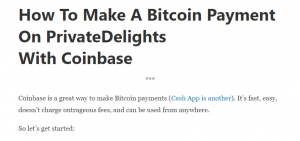 My Finishing Conclusion about Private Delights
All in all, this is a decent simple website, but it's still not what you are looking for. Or are you? It can cost you a lot to become a member and explore what it's like in the escort dating world. A more suited alternative would be to take your chances with free hookup apps and sites. You will definitely have success without spending a dime!  
Sites Like Private Delights
If you're looking for more escort site reviews, I've got you covered. This is a list of four more sites that you need to know about and understand if you're going to try and pay any girls for sex. Do NOT hire a call girl without reading these…
---