Most dating sites don't mention a girlfriend experience but Southerngfe.com is exactly the opposite. If you want a full package or the "GFE" – the "girlfriend experience" from an escort site, then this should be your preferred choice. Though I don't really see how they can make a difference because today's dating lines are quite blurry, to be honest. It seems something fakey is happening here so it is my primary task to investigate what is that.
Southerngfe.com Features
The simple design is not very promising. As they say on this service "Southerngfe.com was created by providers from providers". This statement usually means that call girls and escort providers could use some help in advertising their services, doing it professionally without being responsible for the business side activities.
But is this what's behind Southergfe.com?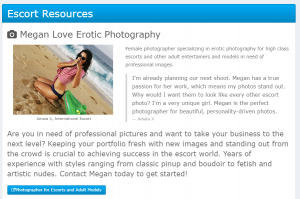 Here are the main features:
Escort Photographer
This is a female photographer that, if you are a service provider, can get in touch with to help you get a portfolio of nice, professionally executed photographies. They are a bit too nice, if you ask me, with too many editing and corrections.
However, if you want pics that look like they have come from a magazine, you can pay the expensive prices of this pro photographer. Users – watch out! Hiring a pro with a camera can mean only one thing! Big question mark next to the real-life quality of the girls!
Escort Girls and Adult Companions
I guess they call them adult companions to justify the "GFE" acronym from the website name. Otherwise, I don't see what's the difference between the two categories. Most girls are advertised in the big U.S. entertainment cities, such as New York, Atlanta, New Orleans, or Houston.
Directory and Listings
This section includes links to adult dating sites and has definitely eliminated my doubts that this site is 100% real. Now I know that it can't be! When I find adverts about commercial dating services and cam sites, I immediately get suspicious and know that I cannot trust the service in question in full!

Public and Private Forums
You must be a member if you want to post on the forum and memberships are paid. Can you find the logic for this? My only explanation is that Southerngfe.com is everything else but a genuine escort site and that you may get into various troubles by joining in to look for hookups.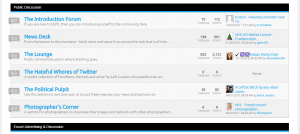 Is Southerngfe.com Just a Masquerade for Fake Dating Websites?
There is a lot of evidence that suggests Southerngfe.com might be a scam. I doubt the pro photo service, the cam linking, and the paid forum in particular. If you know me well, then you know by now that I prefer looking for dates on free hookup sites.
At least I will only be paying for drinks and condoms! I won't be ripped off by skunky memberships and fake photos!
Would I suggest using this over a traditional dating network to meet local horny people – HELL NO! I know what I know and I know what works. With confidence, I can say that a traditional dating network will yield better results than the Southerngfe.com and RoomService2000 will ever. For the best of the best, use this app versus the escort site.