When you expect too much of a dating service, you are most likely to notice its faults. But, when you are not looking for details and you are fast forward to getting laid, mistakes happen more easily. In the case of NaughtyMilfHookups.com, you may be just too horny to notice that you are being tricked. If you are a regular user and know something about fake hookup apps, you will see right through the scam. Yup – you are looking at yet another Nautell fraud in the sphere of milf dating!
Authenticity
NaughtyMilfHookups.com is related to the Nautell Network, to its mischevious copycat doings and to the fabricated women called Love Stars. As a reference, here are some of the additional faulty websites operated by Nautell: LocalBangFinder.com, FreeHookupSpot.com, SwipeHookup.com, and SwipeBang.com. We have reviewed most of them, and some are waiting for better days. But, they will definitely find their way on our review agenda, as long as we find them!
Why is NaughtyMilfHookups.com a Bogus Hookup Site
Firstly, make sure that you notice the affiliation of NaughtyMilfHookups.com with Nautell, which is usually included in the Terms & Conditions. Here is an image snippet as a proof:

NaughtyMilfHookups.com Manipulates Subscribers with Bogus Females
Please remember that all those women you see in the Search Area are not real. If you were a person with an attention to detail, this scam will not have slipped through the cracks. It is visible in the provisions, but also from the site. The fake women look too unrealistic. Nothing about them that seems genuine – from the photoshopped photos, to duplicate images available across multiple online resources, to the effort they invest to make you get an upgrade – fraudulent activities abound. Make sure  you keep this in mind when you start getting those messages.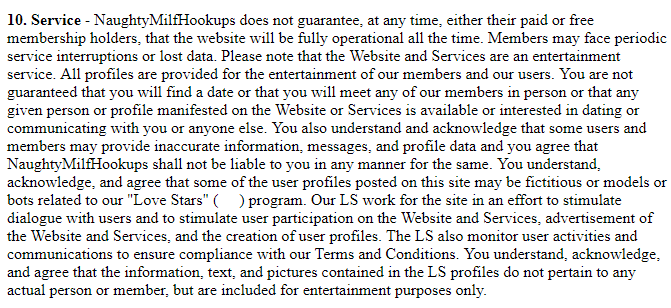 Fake Profiles "Love Stars" Send Automated Messages
Normally, Love Stars would not be so successful in their methods if they just stood there and did nothing! No, the online dating scam of NaugtyMilfHookups.com and Nautell comes in a package. All those messages, and sweet and sexy chats in your inbox are just made by software. Then, they are skillfully applied in strings of messages, so that you think you are chatting with someone for real. But, if the conversation makes sense, it doesn't mean that it is real! You will quickly see that when you start arranging a date. The Love Star will disappear and you will be prompted for an upgrade.

NaughtyMilfHookups.com Charges SMS & Copies Your Content
Here is the last photographic snippet proof of the scammy tricks deployed by NaughtyMilfHookups. What you are seeing as one website is a network. However, the network is not realistic. It is only real as far as new names and website design refreshments are into question. The work in the behind is the same. When you join one of the sites, you actually become a member of all of them. So, if you are spending your money to get more memberships and increase your chances to find sex dates, stop now! It is all one and the same dating resource, and one that keeps you accountable for the SMS chats!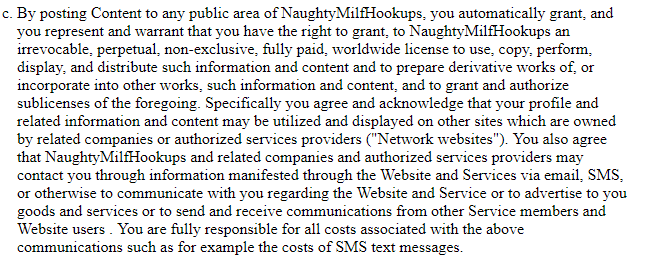 Price Tag
A 3-day trial is $2.97 auto-renewed at $39.95 a month
A 1-month membership is $29.95 a month
A 3-month membership is $74.85
A 6-month membership is $119.70
Busted or Trusted?
When it comes to Nautell websites, we have no doubt that they exploit hundreds and even thousands of users. With their dozens of hookup apps and audience-oriented dating services, they are pro scammers. And they have no intention of stopping. If you think that you can pay for the same site multiple times, it makes people very angry. Moreover, it will be too late. There is no chance of getting your money back. So, caution!