Here on MilfsMatch.com we are uncovering one of the biggest scams ever that are just looking for inexperienced new users. If you have never been on an online dating site, just watch and don't pay anything! This will be one of the most thorough lessons and biggest lessons you've had in your life! If you are dealing with a scam for the first time, stay tuned for more, because you ain't seeing anything yet!
The MilfsMatch Dating Details
If you are just browsing MilfsMatch.com, it is difficult to notice the scam in its full size and volume. However, when you try to register and if you are just a tidbit suspicious, you will start asking yourself some questions immediately. On the registration screen, you will see this prompt that warns about what you are getting yourself into:
By proceeding I acknowledge and agree that this Site includes Online Cupids® which are fantasy profiles operated by the site for entertainment and compliance. Online Cupids® may interact with users to encourage full participation in the Site's services, procedures, and options. For more information regarding Online Cupids click here.
How do you feel about getting messed around with? No one likes the feeling that they have been duped by paying for virtual profiles that serve only for entertainment purposes and have no likeness with real persons. Well, on MilfsMatch.com, this is your inevitable destiny!
Why is MilfsMatch.com a Fake Hookup App
Let us now look into the scammy process in a little more detail: We are exploring how is MilfsMatch.com making you fall for the scam with Online Cupids. Everything is presented in the screenshots. Just have a look below:
Here is a provision from the T&C which states that you will be dealing with illegitimate profiles that are not real women. Will you ever have to deal with real women? Not really! We have investigated all profiles of fake women that sent us messages. None of them were real. As you can notice below, there are five chat messages. But, how many are real. Not a single one! You will see the proof later.


Now, have a look how is MilfsMatch.com trying to get some more money out of you by offering you "free" credits. They will be overcharged later, no doubt when you pay over a hundred dollars per month for fake women. The membership on MilfsMatch.com includes pre-checked boxes with extra needless services. Such an insidious scam!

And – the time has finally come to explain and present the proofs about the fakes of all fake profiles in the world of adult dating – Online Cupids. Each and every one of these profiles is making you a clown: they are all Online Cupids! Did you really think that you can get five women into bed all at once without posting a photo or say anything? Don't trust MilfsMatch.com and here are four proofs why. Have a look at the top right corner. All chat messages have the "Online Cupid" mark in the drop-down menu: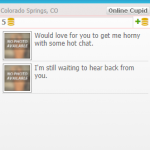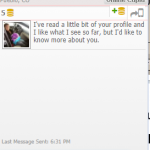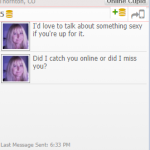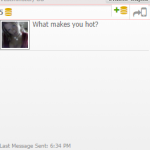 These four women are just a part of all computer-generated messaged send during the short 15-minute tour of MilfMatch.com. Who knows what would've happened if it was all made in two or three hours!
Price Tag
As mentioned be careful of the pre-checked boxes about the extra payment for services on additional hookups sites, such as DateMatch.com and NaughtyAccess.com. Particularly as they renew for a full month after the trial:
$1.95 for a 3-day trial
$24.95 for a one-month basic subscription to MilfsMatch.com
$64.95 for a three-month basic subscription to MilfsMatch.com
Busted or Trusted?
Do we really need to ask this question? It is obvious by now, isn't it? If you still like to try it, please don't hold the team of Adult Dating Patrol responsible for your failures. And, if, by any chance, you got laid on MilfsMatch.com, please do enlighten us how you managed to do that!