This review of the meeting site Milfder.com was planned to go to the good hookup site batch but the predictions didn't turn exactly as I intended. Even from the registration itself, I found out that this adult dating site uses fake profiles called Fantasy Milfs. They mess up many of the good aspects of the site and take into the world of scams. Milfder.com also lacks privacy due to the social media logins and puts very high monetary indemnities.
Authenticity
I get that date hookup sites are attractive when they include the milf population, but that is not a good reason to misuse them for conning other people. Some of the most famous and repetitive frauds on sex dating apps have happened on sites that are dedicated to dating milfs. Milfder.com does everything they are not supposed to do, starting from fabricated profiles, poor security and rip-off liability strategies, Overall, they have their back in a good way but they don't respect their customers who are looking for sex dating in a cheap and secure way.
Why is Milfder.com a Con Adult Dating Site
You are entertained by virtual profiles called Fantasy milfs.
In the typical manner of fraudulent dating services, Milfder.com gives you the red flag at joining the sex database. As you can see from the picture below, the milf fantasy profiles come log with the acceptance of the critical site documents (if you are not aware of which are these, then you are obviously a newbie on adult personal services). Have a look below to get a grip of what you are getting yourself into: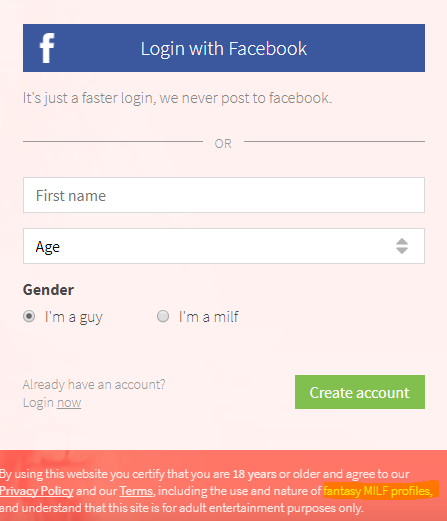 Let's go one by one to check what is the task of the virtual profiles:
Most of them are fictitious and do not relate to real persons
Explain site features to users
Enhance online experience
They are computer-generated bots and use fake messages created by software.
There is no chance to get real hookup dates or getting a one night stand.

Third-party links are not as secure as the main adult hookup site.
You may have noticed that the payment processing is done via a third-party provider. This is not unusual for sex dating sites. However, there is more to it on Milfder.com – many of the services are provided by other companies that work on significantly lower levels of security:

You are responsible for following any changes to the privacy policy.
How about this advice – bookmark the Privacy Policy and keep an eye on it yourself! Would you trust an adult dating page that uses their policies without communicating them to their greatest treasure – the customers?

In a case of billing errors, you may be liable with $2,500 indemnities.
I have seen various sums that support businesses in their actions but I rarely see an amount like this one. Milfder requires taking a responsibility of you being liable in amount of 2,500 dollars when an error happens:

Price Tag
$29.95 to purchase a 1-month membership
$49.95 to purchase a 3-month membership
$69.90 to purchase a 6-month membership
Busted or Trusted?
Hooking up at Milfder.com is a really tough stuff. Particularly when most of the milfs there belong to the fantasy realm and are conveniently called fantasy milfs. Additionally, I advise against any date hookup sites that charge very expensiliabilitytiy costs to its members  – I understand that there are fraudsters all over the net and that they need to protect themselves, but there are other ways to do that instead of using pricey indemnity fees.