It is a widely known truth that hooking up with milfs and cougars is a favorite hobby of users who join adult dating sites. LocalMilfSelfies.com is one of the better-executed adult dating site scams. This is just another bonus for it to keep working just as good as it used to. Normally, for you, that would mean opening your eyes to the evergreen fraud and avoid spending time there. Let us explain why your chances of getting laid on LocalMilfSelfies.com are poor.
The Authenticity Of LocalMilfSelfies: As Unauthentic As It Gets
Let's start with the get laid guarantee. Namely, if you don't get laid in the first three months you get an extension of one month. In order to get laid, you must purchase a subscription. In this case, it will have to be a 3-month subscription. Let me ask you a simple question: what happens if you don't manage to get laid even after that month? Will you need to get an extension? You will, just, in this case, it will not be free, but you will need to pay for an additional three-month extension which is automatically renewed. LocalMilfSelfies.com is NOT authentic.
Why is LocalMilfSelfies.com a Deceitful Hookup Site
Forget about all those fancy features found on the landing page. As far as fake hookup sites are concerned, what matters is what's at the back, not what it's in the front. Think of like a not so pretty girl with a bunch of professionally applied makeup.
LocalMilfSelfies.com Sells XXX Movies
if you get the buzz of things with all those multiple features, you may easily forget that they are included just to spin you out and lead you on to purchase a Gold or a Silver package. Sending SMS or texting is presented like a "special" option. really LocalMilfSelfies.com? Do you expect us to fall for that insidious trap? Hardly likely! The story is the same with the multiple search features and the "Get Action Guarantee" explained above.
Unlimited Profile Views, Private Photos & Fantasy Profiles Are Just a Bait for Upgrades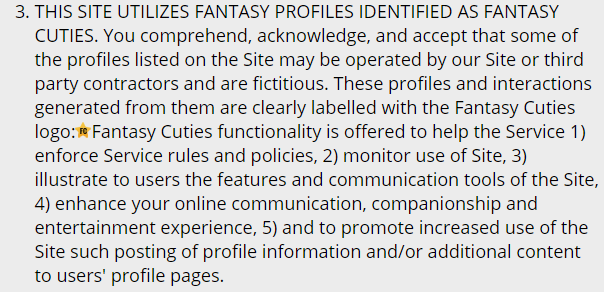 If you thought that this site for hookups personals has got rid of fabricated profiles, you got it wrong. They are called fantasy profiles and they use the same fraudulent methods to sell you services, make you upgrade and send you a bunch of nonsensical chat messages:
LocalMilfSelfies.com Has Poor Reviews
There is no more solid proof of the deception applied on a hookup site when the top five results in Google return the same opinion – everyone agrees that LocalMilfSelfies.com is a huge hookups scam: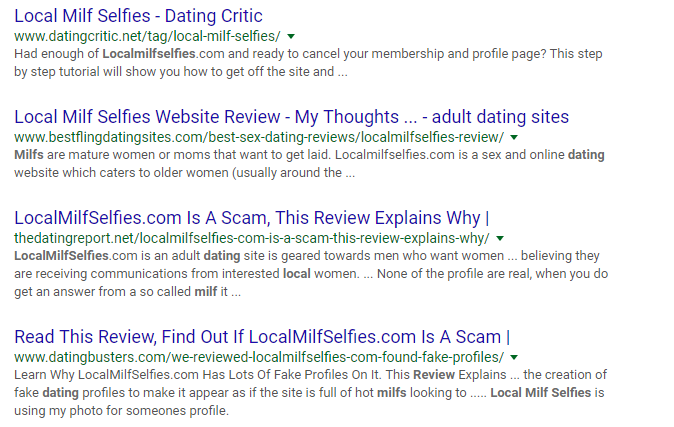 Price Tag
Three-day limited trial package for a daily fee of $2.97.
Best value deal of $11.95 per month.
Silver package for a monthly fee of $16.65
VIP lux package for $29.95 a month.
Busted or Trusted?
Getting laid on LocalMilfSelfies.com is a tough business, but getting ripped off will not be so, especially if you fall for the scam and get duped to buy at least three months. If you don't get laid in the first quarter, you may even think that you don't know your way around girls. This may result in you losing not only your money, but also your confidence. Adult Dating Patrol really doesn't want to see that happen. Following our recommendations is a smart choice if you want to keep your esteem and find amazing sex dating, too.