It takes a whole lot of patience to review adult dating websites, mostly because so many of them are fake and a really great product is difficult to be found. For example, OnlyHookup.com looked different and promising, like it doesn't like beating around the bush for too long, but it ended up on the same illegitimate list as many others. If you were hoping for some awesome trends at OnlyHookup.com, I am sorry to say that the only trend that you will find is one of the scams. I can't even call it a trend – calling it a habit is more appropriate. So, let's see how OnlyHookup.com deploys the nasty fake strategy.
Authenticity
The questions you get on the home screen are straight to the point – it seems that you must be available, discreet, shut your mouth and find a date. It looks pretty breezy, right? It doesn't demand a great philosophy. However, once I clicked yes to all of this questions (and I genuinely agree with them) I got transferred to the following screen: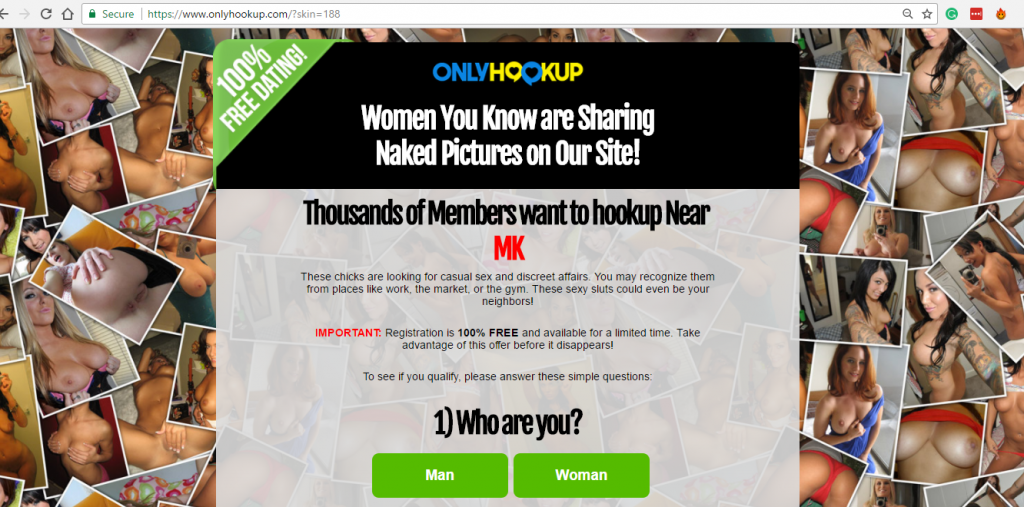 That was it – that's all of the originality and the direct approach. Once againI got this oh-so-well-known screen related to many other fake dating services. Now I already knew for sure that I am dealing with a scam – you will know, too, if you follow this review or browse through the Adult Dating Patrol's list of fraudulent websites. You will recognize the fake landing page on so many of them.
Another point that convinced me that things are not at all clear and straightforward is this quote for limited-time free registration for men – let me tell you that it is only a marketing trick that pushes horny men into getting a membership. Things are not only not free but also come with interest!  The quote in question is below:
"We periodically close registration for men. This is to have approximately an equal number of male and female members. Registration for MEN is currently OPEN and it is FREE, so we advise you to register now while slots for male members are open".
Why is OnlyHookup.com Yet Another Fake Website
Do you want to know how the scam works? Here it is in a nutshell:
The site charges automatic renewals.
Normally, you pay by a credit or a debit card and agree to automatic renewals, but you don't know that you agree to subscription for the period of length and not for the rate for that period. This means that if you approve the automatic renewals by time periods instead of rates, you agree to continuity even when the rate changes. You are also liable for extra transaction fees, Look ate how is this settled on OnlyHookup.com:
"YOU ACKNOWLEDGE AND AGREE THAT YOUR PAYMENT METHOD WILL BE AUTOMATICALLY CHARGED FOR SUCH MEMBERSHIP FEES, PLUS ANY APPLICABLE TAXES, UPON EACH SUCH AUTO RENEWAL. YOU CONSENT TO AND ACCEPT RESPONSIBILITY FOR ALL RECURRING CHARGES TO YOUR CREDIT OR DEBIT CARD (OR OTHER PAYMENT METHOD, AS APPLICABLE) BASED ON THIS AUTOMATIC RENEWAL FEATURE WITHOUT FURTHER AUTHORIZATION FROM YOU.
You will pay interest if you are late with your payment.
Well, this is some customer service! I would be free to call it a customer rip-off and don't feel bad about it. Instead of offering discounts for regular members this bully of a website charges interest rates. I haven't seen this way of doing productive businesses yet – and I am sure you agree:

OnlyHookup.com uses virtual profiles called Online Cupids. 
And yet again – the virtual profiles called Online Cupids! You must be aware that these fabricated profiles exist and that there is a great chance to encounter them. In fact, they are all over the website, work tirelessly and it is not like OnlyHookup.com hides that – if you notice the ToU provision you will not be too surprised by their existence, perhaps only by their frequency:

Price Tag
$1.95 for a three-day trial subscription renewing at $29.95 every month.
$69.95 for a six-month membership.
$49.95 for a three-month membership.
$29.95 for a one-month membership.
Busted or Trusted
As you can see from this investigation, the only "trend" available on OnlyHookup.com is the new front screen with its catchy and pushy method to rush into registration, because it will "close soon". It will never close, and even if it closes, you don't need to worry about it, because it is not free anyway. So, yes – the hot booty on the front screen is probably just a great commercial trick to rush you in – no chance of real casual sex on this website.