The easiest way to make an adult dating scam work is to make it look as close as possible to the original. NaughtyFlings.com create a really good deal here, because the web page when you first look at it looks really great, even amazing. However, all it will take to reveal the scam is for you to answer the question about your search location. Everything is explained in the Terms and Conditions but if you don't want to like to read so long documents have a look at the review here to save your time.
Details on the NaughtyFlings.com Scam
I uncovered the scam when I registered. They ask you to pick a search location so that they can match singles that are most compatible with you depending on the place of living. So, I decided to play a little and put Hannover, Germany as my home place.  The search tool presented 2,000 singles that are near me.  But wait! Can you see the catch in the photo below? They're saying that they're in Montreal! This is actually the only city on the landing page. This just tells me that I'm dealing with a huge hookup scam that has nothing to do with a real adult dating site. It is just using the same location to fool everyone.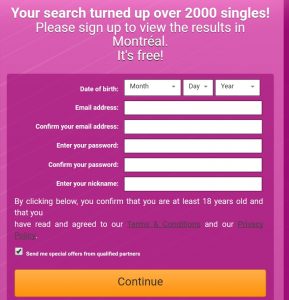 Why is NaughtyFlings.com Just a Sex Dating Scam?
Many adult dating sites that are part of a network typically uses the same scamming methods all over the network. They just recreate the front page so that countless users fall for the same trap thinking that they're visiting some other site. It only takes a little research to see that NaughtyFlings.com belongs to Match1, which is also associated with Angels or Vixens, 40 Plus Singles,  Date Matures and the false dating apps associated with the same company.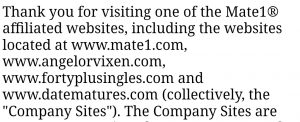 NaughtyFlings.com is an Adult Dating Scam Network
Just after filling out my details I was directed from NaughtyFlings.com to Match 1. Obviously, they think this is the best adult dating site for my profile although I haven't really answered any question or given a detailed description on my profile.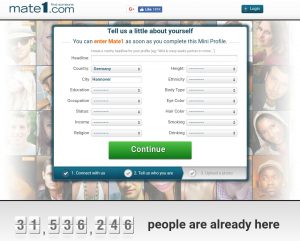 Be especially careful when paying with payment methods from foreign banks and credit cards from international banks to avoid extra fees. If you don't check the extra fees you may end up paying really high costs because you're responsible for anything above the membership in the subscription fee on NaughtyFlings.com.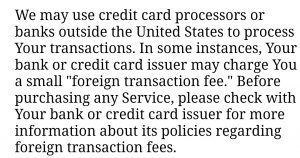 I couldn't miss the third-party providers. There's plenty of them, and the list is not exhaustive. They include communication tools, live chat, online forums, personalized content and branded programming. As you can see, there are multiple ways for you to fall for someone's fraud. The risk is too great.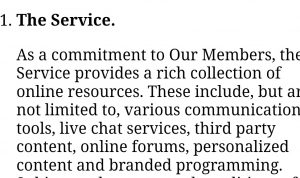 Virtual Profiles Called Online Ambassadors
The virtual profiles on NaughtyFlings.com have a fancy name Online Ambassadors. Apart from that there are also included in the interactive features. Whenever you see the label "interactive features" or Online Ambassadors in the Terms and Conditions you should be aware that they are only fabricated profiles. They have nothing to do with real people
Cost to Join Naughty Flings
$24.99 for a monthly subscription
$74.99 for a three-month subscription
Naughty Flings Review Grade:  "F"
As easy as it takes, NaughtyFlings.com makes it very simple to fool its users. All bits and pieces are in the relevant documents, but only if you are one of those rare persons that take the time to actually read them. If there is on a good place to do that, it is this false hookup app called NaughtyFlings.com. If you are looking for a classier site for hooking up, why don't you pick up your preference here?
Instead, sign up for fling's app.