Some people think that cheating is complicated and don't want to get into it. Another class of people finds it incredibly easy and wonder how the others can find it so complex and challenging. In any case, the adult dating service provider should not be the place where what is problematic can turn into a nightmare. Unfortunately, Free2Cheat.com is not a very happy place, It won't make things easy for you if you want to find a quick, no-strings-attached hookup online. You may get even into further trouble if you don't recognize the scam on time.
Free2Cheat May Not Be Authentic
We have uncovered the same scam on dozens of other websites associated with the same company. In this case, only the front screen is somewhat different from the cliche copies, but in essence, Free2Cheat.com is just a replica of the famous credit card preauthorization scam that works with virtual women profiles. It is simple to target attached people as they are less likely to want to get loud and attract unnecessary attention to them due to their preference for discretion.
Why is Free2Cheat.com A Fake Dating Service
This is why you should open your eyes wide when you are looking for a fling outside of your steady relationships.
You are personally responsible for your own information.
this is a pretty weird provision by a business that puts all types of restrictions on users and tries to steal all other rights for personal gains. It is not the way businesses usually do, but it is the way fraudulent companies take advantage of when they find people who need to keep it discreet and quiet to avoid further issues:

Free2Cheat.com charges extra for video services.
When you fill in your personal details on the opening screen, you will be taken to the activity center. Here, you need to give your credit card details or skip the step.
Let's say you agree to upgrade "for free" and give the card details hoping to get laid. In your excitement, you will forget to check everything you agree to. You open your monthly statement and notice that you have paid for a charge of over a hundred dollars. If it is not clear how can this happen, have a look at the pre-checked box below: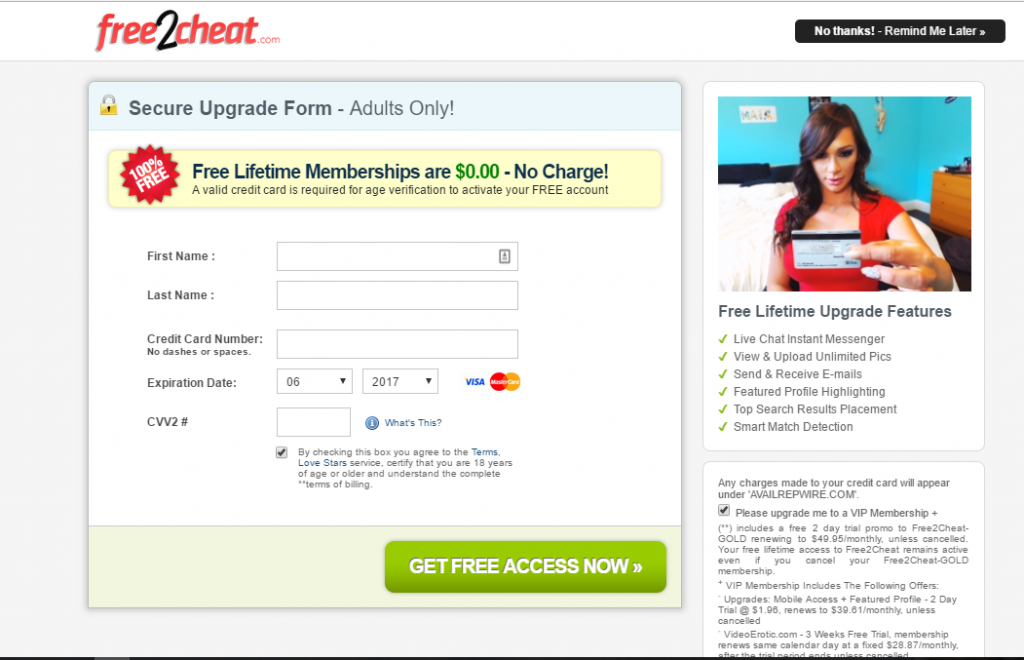 Free2Cheat.com sells ads.
Because you won't be able to do anything unless you buy an expensive gold upgrade you will need to watch boring commercials. You will also need to see extra content from porn movies, irrelevant sex advice, webcams, and similar services included just to rip you off.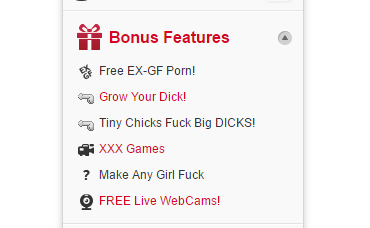 You can't tweet, chat or email without an upgrade.
Don't be fooled by the yellow banner. Unless you pay, you are not getting anything for free. As you can see, Free2Cheat.com doesn't leave you with much choice. This dishonest company tries to find ways to get your money with imaginative scenarios: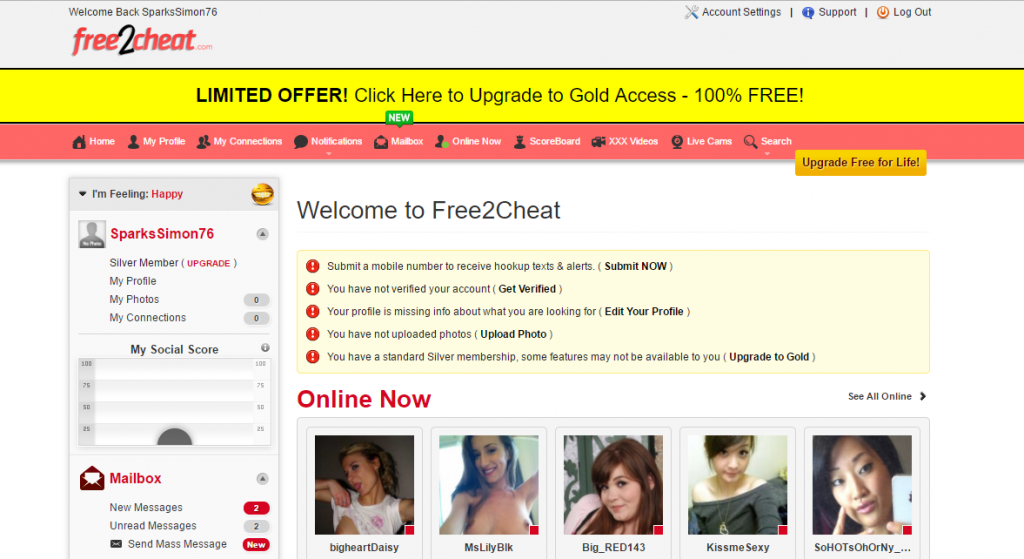 Price Tag
$49.95 for a monthly membership to Free2Cheat.com
$39.61 for a monthly membership to Vibe Video
$28.87 for a monthly membership to Video Erotic
Busted or Trusted
The Free2Cheat.com tactics for money extortion are nothing new. But, there are always new potential adult dating novices that will fall for the scam. In case you want to try it out – you are on your own, Free2Cheat didn't provide any arguments that could make us think that we are dealing with a genuine product. We can say that this adult dating site should be called Free2Quit!