LatamDate.com is a mixed service which offers all types of dating to interested candidates who like dating Latin American women. It is not only a hookup service but it also offers a wide range of other products as a part of the larger Qpid network. They work on matching people from various continents and they charge that expensively.
Authenticity
If you're interested in meeting girls from Latin America this can be a spot to take your bank account into overdraft. There are plenty of ways to do that and LatamDate.com makes it even easier. They offer commercial services for paid credits in a creative and an inventive way. It is such a great fun that you may not notice how huge amounts of money are slipping from your card. This is an array of options that can take you south if you are not careful:
These features are introduced in order to help you manage your membership but they all cost money and they are the official way of communicating with other users. The free registration is worth almost nothing because you must buy credits to engage in action.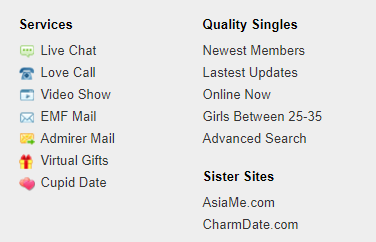 Why is LatamDate.com an Illegitimate Dating Service
Collects plethora of your personal information
#1 – Your personal data including your gender, first, middle and last names, date of birth and ethnicity, which can be accessed and viewed by others that provide services on the site.
#2 – Extra information related to your personality, including your additional information, such as your height & weight, smoking and alcohol habits, languages spoken, education, religious inclination profession, number of children, if any, income,  marital status, age, as well as photos and personal description (all will be publicly displayed  and shared across the Qpid network).
#3 Contact info, such as your email and residential addresses, including postal code, phone and fax numbers.

You must buy credits to use any of the special services.
As mentioned above, all products and services are charged with credits, it is not clear how much is the cost of the credit and they expire after 180 days. If you fail using the site for a couple of months, your investment will evaporate into thin air.

You must agree to commercial dating.
In the usual fraudulent way to non-secure websites, you must be a punching bag for testing commercial services by means of engaging into constant email communication for marketing purposes, contacts from third-party providers and even series of automated messages.

Price Tag
There is no clear explanation on periodical fees, just the number of credits charged for a service.
Credits are charged automatically.
One credit for each EMF Mail sent with one photo
The first photo attached to the email is free, one credit is charged for each extra photo
Virtual gifts store – different items may have different prices
Virtual gift sent as an attachment in EMF Mail will be charged 0.5 credits less than that being sent from Gift Store.
Free of charge when receiving Virtual Gifts sent by the ladies.
Busted or Trusted?
If you want to be included in an agency-type of dating service where someone plays a matchmaker for money, then one of the Qpid sites may be your choice. I doubt though that you want to risk on taking your chances with a complex provider of expensive paid features when you can find the same for free on other adult dating providers. Alternatively, how do you feel about having your information publicly displayed on sites that reach regions with potential cyber risks? I thought so.