Here at AdultDatingPatrol.com, we cover LOTS of different types of adult dating sites. Some are escort related, others are local hookup related sites. Today, we're covering a unique type of site. It's one dedicated to those who love Kik but want sex. Don't get too excited just yet. It's a complete scam and it's called Kik Chat Snap. Trust me, you're going to want to avoid this one at all costs. I can promise you that!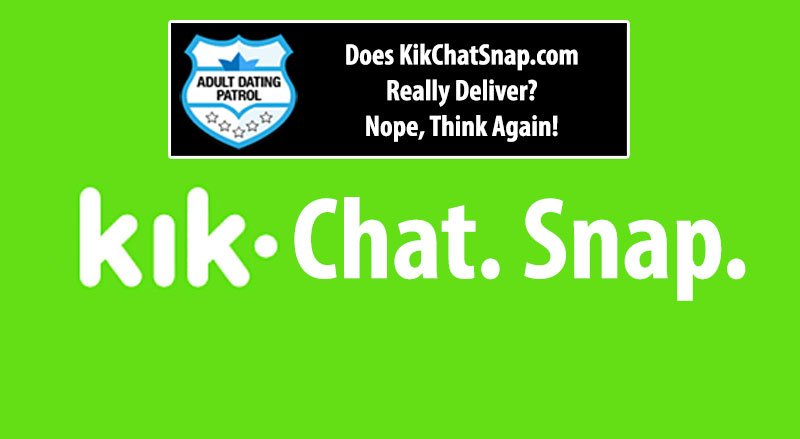 Kik Chat Snap Is Just A Scam
Snapchat (not to be confused w/ Snapsext) is a very popular app for men and women who love to show off their naked bodies. The whole thing works as a way to trade photos and videos with each other. These then get deleted after a specific amount of time. It makes people feel safe enough to show off anything that they want.
There are a lot of different sites on the internet that claim to get you the names of horny women who love to show off. It's great when these sites work, but it's also a great way to scam people. That's what you're getting with Kik Chat Snap.
This is a site that starts scamming you from the very beginning. They go out of their way to make sure they get you on the hook for a lot of money. This site, in particular, doesn't even exist. It just funnels you into a site called Swipe Hotties.
You Get Messages Right Away
If you sign up for this site, you can expect to start getting messages right away. Your inbox is going to be full and it will seem like there are tons of women who want to show themselves off to you.
They make it seem like you'd be crazy to ignore them. That's the whole point. They want you to want to talk to these women. The problem comes when you try to do it. You'll never be able to send off a message of your own unless you upgrade your account to VIP status.
In order to do that, you have to spend your money. It costs a monthly fee to become a VIP who can send out messages. Once you do that, you'll see that you never get a single response from any of the women who have sent you messages.
The Profiles Are The Fakest Ever Seen
The reason for this is simple. All of the profiles that you see are totally fake. None of the women you see on the site have ever actually been on it.
The images have been purchased by the site and used to set up fake profiles. They then use these profiles to send you fake messages. The site then just waits for it to seem like you have to respond.
That's when you end up upgrading and giving them your money. That's how the scam works and makes the site all of its money. I know, sounds disgusting and annoying, but that's the truth of it all.
Conclusion: Kik Chat Snap Will Steal Your Money
This is a site that will never lead you to meet up with someone – EVER. It won't even lead to you seeing naked women. It will just lead you to a scam site and that's it. It's a total waste of time and an even worse waste of money.
There are much better sites for you out there. There are plenty of sites with actual people on them. Spend your time finding these sites instead of using this one. You'll never get anywhere on this scam site. In fact, I've laid out a whole lineup of sites worth joining. Check out this solid list, take action, and hookup today. No more Kik Snap BS.