Milf dates are nice but not when they're not real. We've had some hard lessons whenever Nautell comes into question. There is no way this is going to be real. They work relentlessly with their scams in the same way our team works with uncovering them. We believe we will discover some more in the future. For now, let's stick to this one called JustMilfDates.com. We used the usual strategy of finding out what's real and what's not. Let's see what that included.
Authenticity
The easiest way to check if a site is real or total bullocks is to create the profile and carefully inspect all site features as if you were trying to find a real date to date get laid. Typically, you have to be very careful with the upgrade because you don't want to spend money without getting anything in return. Make sure you don't enter any credit card information until you read everything else in detail. Go through the Terms and Conditions, enter your details and upload some photos. Only then you will be able to tell if there is a chance to ever find someone for real. We did that and the end result was a total fluke. JustMilfDates.com uses all typical tricks by Nautell – Love Stars and computer-generated messages.
Why is JustMilfDates.com a Sinister Hookup App
Even if you don't read the Terms and Conditions you will find out the details on the registration page. For starters let's go with the Love Stars.
Love Stars Pull the Wool Over Your Eyes
The time stamp on the front page creates a sense of urgency. It's like you have only 20 minutes to enroll in the membership and become an exclusive member. You get to answer a few questions about your sexual habits.  This just encourages you to go fast and get into the members' area as soon as possible. You've hopefully read the small print. The small print already states that you come into play with the Love Stars. As usual, they're only bots with no real essence behind them, serving only for entertainment purposes and are created by the website or by third-party contractors.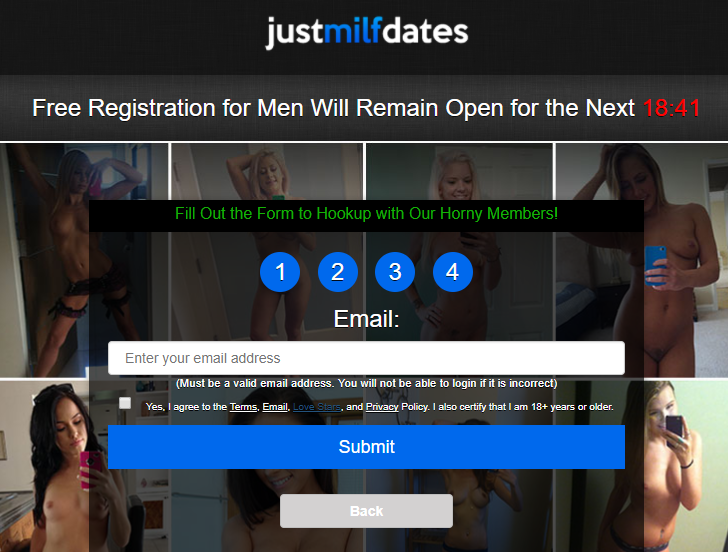 Fake Computer Written Chat Messages
You'd be able to notice plenty of this fake girls or milfs on JustMilfDates.com by the symbol next to their name. It consists of the letters "l" and "s" (capital letters) usually next to the name of the fake girl or to her main picture. When you start getting the messages in your chatbox that's the first thing you should look for – "LS". If you just spend a few minutes on the site and follow the messages you will see that all messages come from Love Stars.

Price Tag
$2.97 for a 3-day trial that turns into $39.95 a month membership
$29.95 for a paid monthly membership
$74.85 for a paid 3-month membership
$119.70 for a paid 6-month membership
Busted or Trusted?
You know that JustMilfDates.com performs the usual online dating scams in the style of Nautell. We didn't mention that your credit card will be charged in any case. If you provide the details there is a regulation that states that the usual subscription amount will be charged (or reserved) against your credit card. You fill out the details – you're paying anyway! No one likes this and some of the members that contacted this site really hated this method. So, be careful – don't give your credit card to JustMilfDates.com in an easy way.