Exotic dating websites can provide a really raw deal for users who like to meet nice looking girls and exotic beauties from far away. They look really attractive and they're a nice catch for anyone who wants to expand the boundaries of their dating experience. When they come from countries with some exotic origin, the treats are even better. Now we're reviewing AsiaMe.com, a site that has been famous for connecting with Chinese girls and is now known under a totally different name, yet doing the same scam as it did before and using the same expensive commercial methods.
Authenticity
The fraud with meeting foreign ladies really works. It has been exploited for Russian girls, for Latin American girls, for African girls and for any country that has some hot looking women which are different from the popular stereotype. However, if you want to meet someone here you're really going to need to pay for it. Then the big question is if there are any real women here? The women are stated is beauties but they all look like models! They are so unrealistically gorgeous that it's really hard to imagine that there are all members of this website looking for men to date. Although the niche is not specialized for adult dating, many people look into that. There is one point we would like to make about the "credit score". There is one really weird provision in the Terms and Conditions stating that the number of credits increases if you get to buy more of them. However, when you are left with 1 credit on your account it gets automatically renewed!
Why is AsiaMe.com Just a Costly App Scam
We're going to provide your guidance on how the scam works in the network or the sister sites of AsiaMe.com, which are Charmdate.com, LatamDate.com and some others which are going to be reviewed sometime in the future.
Qpid Network Center Associated with Several Exotic Scams
The Qpid Network Center is the payment processor that connects all these websites to one network. So, if you get an account on AsiaMe.com you actually become a member of all the sites.You get one account and you get credits depending on your preference. You can search on any of these websites hoping to find something that you like. But, before you get that membership and buy those expensive credits you need to know the value and how much you actually need to spend to have a decent chat or an average communication.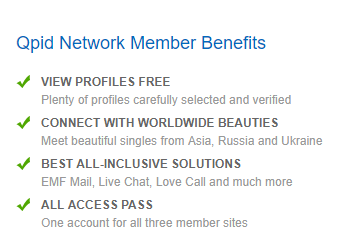 Qpid App Imposes Additional Dangers via Stores for Android and iOS
The Qpid Network Center is connected to a Qpid application that is available for download in the app store. There are additional costs. You know how we get used to swiping and sliding on mobile apps, looking at sexy pictures of nice looking girls and find the traps for getting upgrades. If you're not only using the website but you're also doing mobile dating you should be even more careful about how you spend your credits. Check for additional download costs and the Terms and Conditions of each of the stores there are often very different from what the website offers.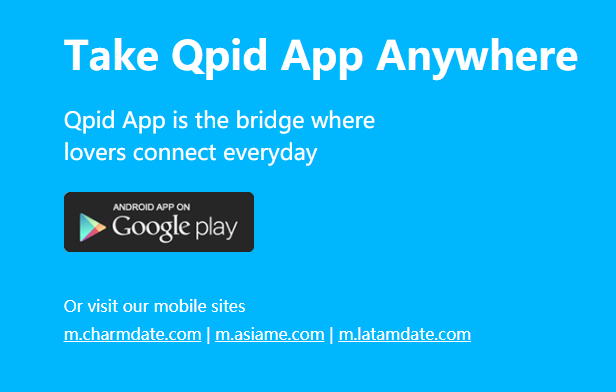 A Bunch of Paid Communication Channels
All is explained in the frequently asked questions. The credits enable your communication with the site members. All communication is paid and AsiaMe.com has been really creative to develop several communication channels so that you think that you're getting something extra. In fact, they're just offering extra options to get your money out, so if you want to use the chat or if you want to send an email you have to pay with credits. Then again, there is also the option of virtual gifts. As you can see AsiaMe.com is like a factory for ripping you off with tokens.
The Cost of a One-Hour Live Chat is Like a Decent Lunch Fee
To be more aware of the costs of the credit you need to know what you're actually getting for one credit, For example, you can have a 5-minute chat for half of the credit token. That means you need to pay one credit for 10 minutes of conversation. Can you actually meet someone and get to know someone in a 10-minute conversation? We don't think so! And if you want to chat with someone for an hour the cost can be anything from $30 to $60. Is this money well spent? We doubt that!

Price Tag
100 Credits are $399.00.
60 Credits are $299.00.
32 Credits are $179.00.
16 Credits are $96.00.
8 Credits are $52.00.
40 Credits are $30.00.
3 Credits are $21.00.
Busted or Trusted?
It's really difficult meeting an exotic beauty on this expensive dating website. It's 100 times easier to look on other apps which are free. When you have so many options and so many other applications that work on international levels and don't ask for money there is really no point in paying hundreds of dollars just to get to chat with someone. How this dating website even works, it beats us! There is no logical explanation for their business. We just assume that there are some really naive people who think that AsiaMe.com can deliver something. Unfortunately, AsiaMe.com is a big scam.