Casual hookups are a great way of having fun and people are often looking online for the best ways to find them. HookupsXXX.com is a place that has a front screen with hundreds of hotties – it looks that is what you've been looking for a while. However, you shouldn't be so quick to jump to conclusions when adult dating sites are in question – there are way more scams than the real thing.
Authenticity
HookupsXXX.com is not what you hope for. You are nowhere close to a hookup date when you join on this site. The only thing that you are very close to here is a huge rip-off. If you have read a few of the reviews here, the front screen of HookupsXXX.com will look familiar and you will be right. It is associated with many of the scams we have presented here. We looked into the Terms and Conditions, the payment processing, the Privacy Policy, the possibility of refund, the members, the way of communication and the overall presentation. The end result is not very satisfactory. Here is why.
Why is HookupsXXX.com a Fraudulent Dating Service
The sites belonging to the Nautell network are using the very same scam all over the sites. It just takes a different shape but the basic principle is the same. You get a promise of the free thing and then you get overcharged. Unless you are very cautious, which most people aren't and this is what HookupsXXX.com hope for.
Let's look into the scam with more detail.
The front screen promises a 100% Gold membership.
Here is a screenshot of the activity screen that is following the registration process. You are getting a 100% free access. Many members fall for this and get into the scam trap. Once you give your personal details and get into the groove of those fake girl profiles, it may be too late to pull out.

HookupXXX provides very limited privacy protection.
When people want to get laid online, they usually like to do it safely and discreetly. No one wants to have problems with security. Moreover, some adult dating sites don't even accept members who won't agree to discreet behavior. On HookupsXXX.com though you are on your own – you must keep your own back all the time.
The site will use fabricated profiles and computer-generated content.
Most fraudulent dating sites have this practice – they create phony profiles and put them into the role of entertainers. Here on HookupsXXX.com, they are called Love Stars – the same name used across Nautell sites. Once you get chatting to these "stars" you must be aware that you are sold as a commodity to the partners and to the advertisers:

The real prices on HookupsXXX.com are over a 100 dollars per month
It is not only the cost of the basic deal that you will be paying. On the contrary – you must pay extra services, especially if you don't catch the scam with the pre-checked box that comes along the "free" membership". Be wary with the credit card details, too. The real sum will be reserved in any case, even if you see the free label all over the screen. Do not fall for the zero numbers.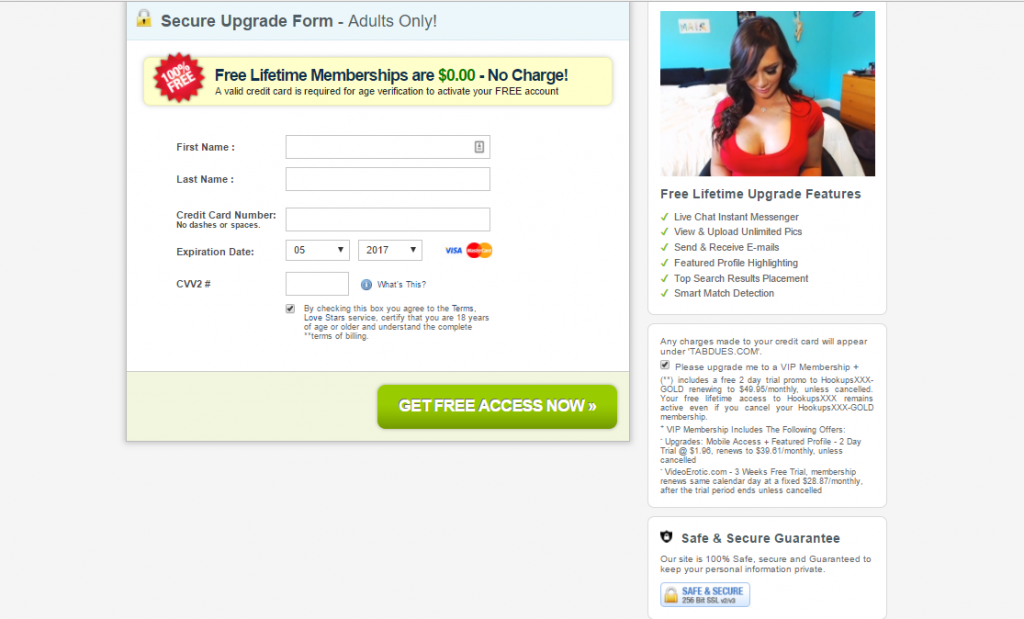 Price Tag
HookupsXXX.com monthly subscription is $49.95
Additional access via mobile is $39.61
Video Erotic subscription is $28.87
Busted or Trusted
HookupsXXX.com is another typical scam with the free false claim and with a super-expensive charge on your bank statement. You should be on guard with every step as you try to register and as you try to hook up. The site is not worthy of any spent moment. It is especially not worth hundreds of dollars as the full monthly amount on your bank statement will show.