Milfs are awesome and a lot of people join adult dating sites to nail one. Or bone one – put it whatever way you like. Boneamilf.com is another Nautell adult dating scam oriented towards milf fans. The milf community is the only difference that you will find here. The rest of the fraudulent methods are used all over the Nautell sites and you will easily have them noticed them by now. It includes credit card preauthorization and fabricated profiles.
Authenticity
Boneamilf.com has a simple registration form and you will like this. Yet, we are not sure you are going to like what comes next. This fake dating service offers plenty of commercial bonuses, a fake "free" membership which is charged over 100 dollars a month and suspicious safety and security features.
A hot brunette will guide you through the upgrade process waving with a credit card and showing her juicy boobs in a tight t-shirt. You may think that there are hundreds of girls and milfs like this one waiting in the dating center for a person just like you! On top of that, plenty of milf popups will ask for an upgrade poaching for new users at every corner
Why is Boneamilf.com a Dishonest Dating Service
Here is how Boneamilf.com does the scam here. Have a look at what is identical and what is different from other dating sites associated with this network:
Boneamilf.com is NOT free – you are immediately asked for an upgrade.
And not in only one way. The site is trying to rip you off in a variety of ways: pop-ups, side banners, drop-down menus and direct encouragement. For example, if you try to perform a search and send a message to another member, this is the message that will pop up at the center of your screen: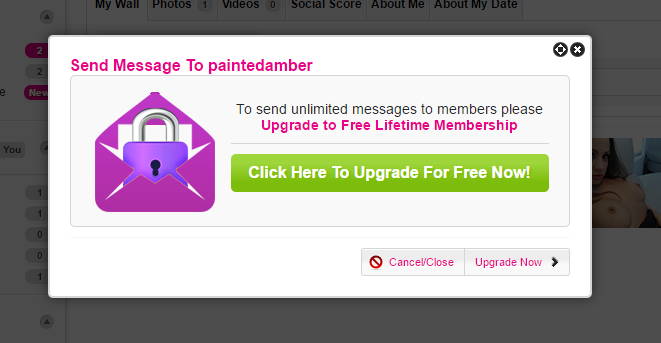 Boneamilf.com uses phony virtual women.
Yes, the good old "love stars* are here and if you were hoping that you have finally found a site without them, you are dead wrong. It might be better if you have a look into some of the great legit dating sites we have posted into the legit section. Otherwise, you risk compromising your free time, your credit card data and your private details for nothing but a huge rip-off.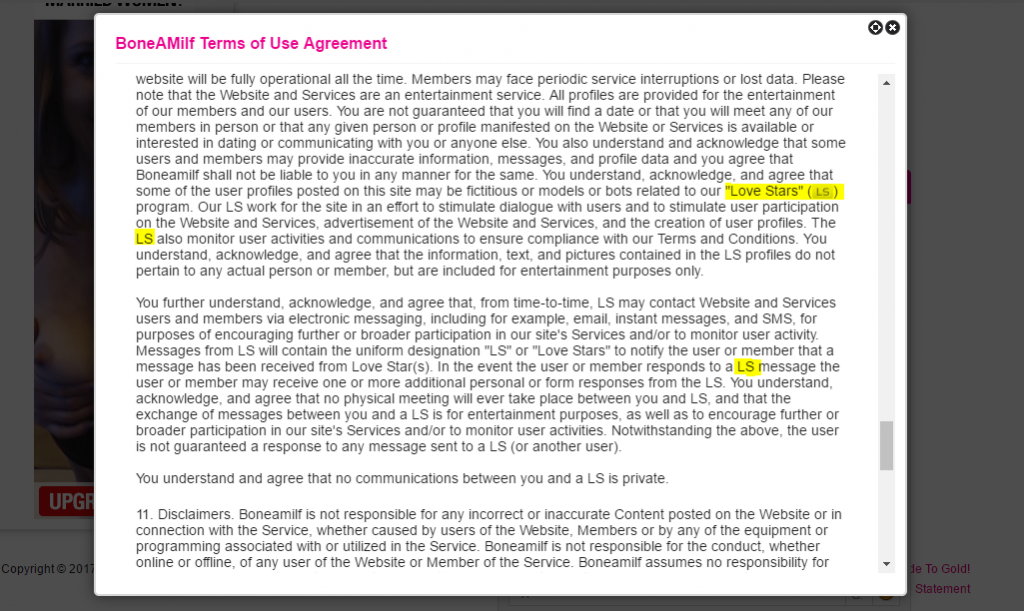 Boneamilf.com uses a small-print credit card scam.
Below you may see a screen of that persuasive chick that "guides" you through the registration. By chance, if you haven't noticed the pre-checked box that at the bottom of the screen, pay attention now. The main screen may say free but if you don;t notice that the small box is pre-checked your initial fee will get way over one hundred dollars!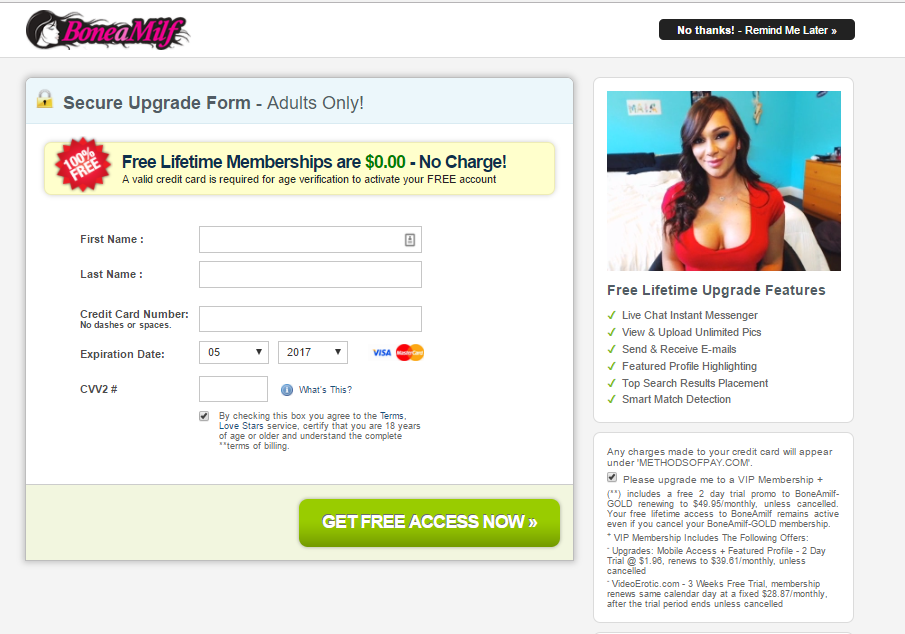 This milf site sells extra features.
These features would have been a bonus, as you see it written below if they were free. However, if you start clicking on the links in this sidebar menu you will notice that each and every one of those is just a pre-marketing tool for selling a new service: be it a sex cam show, a porn movie or penis enlargement help: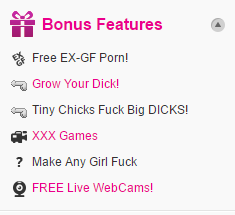 Price Tag
Below is an overview of the subscription plan package at Boneamilf.com:
WebAffair Gold VIP subscription is $49.95 per month
Additional access via mobile is $39.61 per month
Video Erotic subscription is $28.87 per month
Busted or Trusted
We are not recommending getting a membership at Boneamilf.com. For a hundred dollars, you can have more than a few drinks at a decent bar. At least you will have some guaranteed fun and have the worth for your money back. Boneamilf.com is overpriced, unsafe and makes faulty free promises. Milf dating shouldn't be that complicated. Mature men and women should have it easy. This is why you should be careful when choosing the best provider