Canada is one of the countries that take it easy when it comes to escorts. Their regulations are not that strict. But keep in mind that doesn't mean you won't have any problems with the law! Escort services are a tricky business. Regardless of how liberal a country is, you can always mess up and end up having issues.
The contact with the police will be the least of your troubles. Rip-offs, frauds, and scams by the girls and the agencies are by far a more common issue. This is where the real pain lies! If you want to know how to avoid scams on escort dating sites, keep on reading this Greater Toronto Escorts review.
Visitor Insights from Greater Toronto Escorts Reviews
What others think is the best proof of the quality of a business. The word of mouth is a powerful tool for weeding out the dating chaff. That's why I do what I do! I like reading and exploring other people's experiences before I do it myself. So, when I collect feedback from a casual dating website, I include visitor insights into the key factors.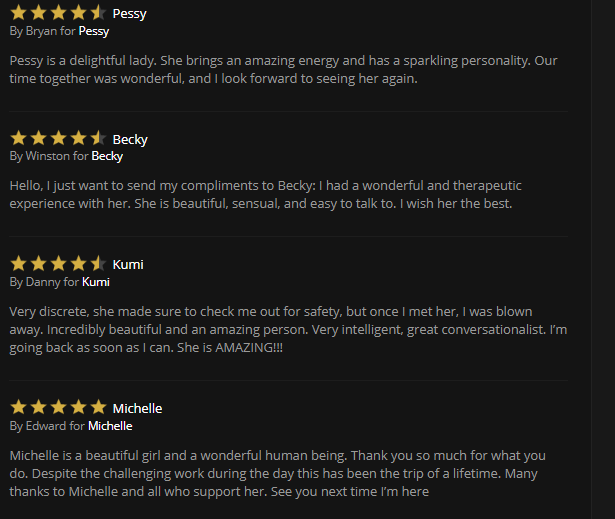 That's what I did with GreaterTorontoEscorts.com, too. I am not that convinced these reviews are real. The girls are only a few. The same reviews keep repeating for the same girls. This feedback style is a lot of BS! I like seeing a bit more diverse stuff. It's far more realistic! I doubt the visitor insights on this escort service are all true if any!
GreaterTorontoEscorts.com Review: Legality Issues
We keep coming back to the important issue – how are escort services regulated by law. You know there are many obstacles, depending on the country. On the other hand, adult dating sites are quite common and legal anywhere in the world. Unfortunately, that's exactly the reason why so many fraudulent businesses mix them.

You can easily fall into their trap if you don't pay attention! The agency tries to keep you safe by posting information that you are doing something completely legal but that's one big fat lie. We all know that escort girls are not the same a babysitters and home teachers!
Free vs. Paid Hookups
Here are the fees for booking girls on Greater Toronto Escorts. Outcall fees will also include booking a hotel room. You must book for a minimum one hour, pay in cash, and preferably, in Canadian dollars.
INCALL

30 Mins – $120

1 Hour – $200

2 Hours – $400

OUTCALL

1 Hour – $220

2 Hours – $440

3 Hours – $660

Overnight (12 Hours) – $2,400
Commercial dating and escort agencies are definitely not a bargain. There are many unforeseen costs and additional risks. So, I'd recommend using a legitimate dating site to get laid.
Greater Toronto Escorts Review Wrap-up
I know that the Greater Toronto area is exciting and attracts the attention of tourists and visitors. It's fin and one of the best Canadian regions. If you are visiting and look for casual dates, there are literally dozens of adult dating sites that are a much better option that escorts agencies. Investigate those options first and then tell me that you like dating escort girls!
Looking for more Canadian agencies, then check the list out below: