Writing a feedback for a hookup site involves a steady and diligent approach. I have to open my eyes and check every tiny bit and piece in detail. If I don't want to miss an important fact, that's a must. There is plenty to investigate on EscortGalleries.com. Simply said, it's a site with a nice design for escorts in major world cities. But, of course, there are some drawbacks. It's a paid service. Rates are not publicly displayed, so you won't know the charge unless you contact a specific girl. Let see what else I deem problematic from taking this Escort Galleries review.
Escort Galleries Review: Site Features
It's a rich site for all escort categories. That's worth mentioning. If you are looking only for girls, this is not the site to look for. You will find ladies, but there is a variety. The choice may not be that exuberant. Here are all the categories you'll find on Escort Galleries:
Escort Ladies & Escort Mens
This is a section that separates hot sexy girls from guy escorts.

Fetish Escorts
You will find various kinky subcategories, such as Dominatrixes, Bizarre Ladies, Escort Female Slaves & Maids.
Escort Masters
The dom side of escort dating.
Escort Alternatives
Here you can find plenty of different subcategories, which are not of primary interest for my followers, simply because they are looking to get laid for free on sites with hot girls. But if you are interested in something different, the escort alternatives include Gay, Lesbian, Trans, Couples, and Duos escorts.
Escort Agencies
Naturally, almost every escort directory has a special place for escort agencies. It looks like this particular website has a knack for expensive providers. On the side of luxury in exclusive locations, I'm not really sure that Escort Galleries is an affordable alternative.
Info Section
The informational section consists of the following elements:
Country/City List – what locations are available.
Become an Escort –  a short guide on how to publicize your services.
Escort Advertising – rules of placing an ad on Escort Galleries
Escort Wiki – learn about escort dating rules and manners.
So far, so good. I find the "Escort Wiki" section most valuable, as it includes plenty of information about how to communicate and arrange escort services.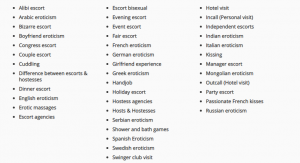 Even if you are looking for free hookups, which I'm sure you do, you'll get some precious insights. Learn the basics of the industry and you'll be better equipped to deal with scams or frauds on dating websites. They won't be able to pull a trick on you by false claims. It's a money saver!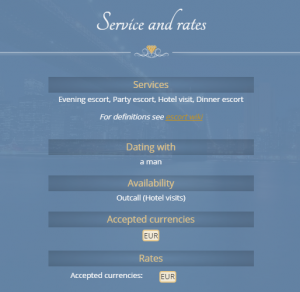 EscortGalleries.com Review –  Hit or Miss?
With links to questionable adult dating sits and live cams, I don't see how I can recommend this escort directory. There is also a connection to "Sugar Baby" sites. The biggest rip-off of them all! Definitely not for free casual dating. I would even say that it looks to be one of the most expensive services.
You know – "Price on demand" or "Ask for a price" providers don't dwell on the thrifty side. Have money to spend? Sure, go ahead. Want to have great sex without paying for it? Go for an alternative – they also include special categories!