If you read this OneBackPage.com review before you learn about all other backpage-related websites, you will be pissed off by the sheer amount of boldness presented by these false escort and dating services. Most of these directories include varied sections and categories. But the ads are non-existent! That's why I wasn't surprised to see that if you are looking for dating or even callgirls on this website, you're most likely to end up in the land of empty pockets.
OneBackPage.com is a Cam Site Hoodwink
Cam room ads all over the place, with girl profile popups loitering across the screen and dozens of quick links. I don't mind a bit of variety on dating sites, but I really hate when you are looking for one thing and end up with completely another! Let's see what are the biggest problems on OneBackPage.com:
Mixed Profiles from Dating and Escort Sections
I took a tour around the sections. As usual, they include popular ad categories, such as real estate listings, cars, and hookup opportunities. Now, I know that most fake classifieds businesses look like this.



Throw a bit of variety into the ad mix and you'll catch more flies than by just advertising an escort business or a fake dating site! I knew what I was dealing with even from the start. But the following OneBackPage.com review steps made things crystal clear:  
No Real People
There are no real profiles, just cam models. You will find the same pictures and ad texts in the cam room sections and in the dating categories. The pic quality and type are the same.
No Profile Verification
You won't be able to submit feedback for the girls or find any more relevant information directly on the website. Each ad is fully unverified. You can get into all sorts of trouble when communicating or meeting these chicks in person.
Bonga Cams and Chaturbate
If you click on the links in the dating category, you will end up on popular cam services like Bong Cams and Chaturbate. I don't see a reason why you should do this if you are looking for opportunities to get laid for free!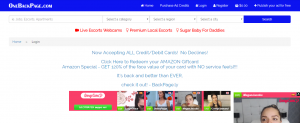 Empty Ad Sections
The most convincing proof of the OneBackPage.com fraudulent statements comes out of my classified ads research by category. I searched for cars or real estate ads in different areas. I couldn't come up with any options at all. On the other hand, ads for escorts and dating resulted in the same ads showing up all over again in both categories. It is like a total waste of time on a commercial dating service that won't land you a free date!
Summary of OneBackPage.com Review Sections
Simply put, OneBackPage.com is full of lies! It is only a cover-up for selling various sex-related services, among which cams top up the charts. For the best results in casual hookups, look for genuine dating sites. They have multiple verifications and support options for their users, Don't rely on nice pictures only!