Today's task is reviewing a new escort site called EscortBook.com. I must say it's better to call it a content management system or a marketing platform. This service is based on providing web space for escorts which they can use to upload and advertise their services. In essence is not that much different from other paid sex websites. It's just that it gives focus to helping girls find their own web sweet spot. As you can imagine, such a system provides multiple opportunities for fake profiles, scam, fraudsters, phishing links, false pictures, and so forth. So what are your chances of getting lucky on Escort book? For free – close to zero. For the money – it depends on the girls or the agency. If you want to do that, find more details in this Escort Book review that follows.
EscortBook.com Review Risk Analysis
All kinds of risks are associated with web escort directories and platforms. Most of them relate to no certification or no general rules about the site functioning. When all is free and floating, you can really get into a lot of trouble. I don't see why would you do that when there are plenty of fish for free on genuine dating websites. If you are interested in a modern app for casual dating, check out how to find hookups for free on Snapbang.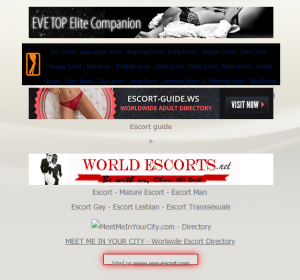 Now, what are the features on Escort Book and are they any worth using?
Proper website for models and agencies

. EscortBook.com offers a demo version of how would a new girl space look and provides some feedback from other users. Girls can create their own websites, using templates and features that have already been cooked up.

Agency links. The bottom space of the website is reserved of escort agencies. I can honestly tell you that I didn't see any individual model on Escort Book. All links belong to agencies, which means additional charges and dubious agreements.  
Free or premium?

Escort Book is a double-whammy. It charges fees from girls. Users pay to the girls. The profit in both scenarios goes to the main website. It's a nice arrangement for the key directory but it's detrimental for the users. Good features cost more.

No girls or profiles on site. I wonder if this is because there is no one on this website. I couldn't think of anything else that could justify the non-existence of call girls which are plentiful on other escort sites. Therefore, I don't think you should waste your time on EscortBook.com, especially since you are looking for free dating services.
Escort Book Reviews Wrap-up
There are not that many web reviews since the site is pretty new. But I can make some conclusions on the basis of the current content and my experience. Years of dating time behind me has made me confident. I have significantly improved my fraud detection hunch, which is nothing more than a careful analysis of multiple details that happen on an escort sites. And my hunch or my sixth sense has never been more sure that Escort Book review shows the site is not worth wasting your time!
Escort Book Review Infographic