This Italian escort site came across when I was searching for some international escort agencies to compare them with free hookup sites. As far as escorts and call girls are concerned, this is one of the better local sites, but that's not what you are looking for. My crew is up for some cost-free adult dating sites and wants the best there is to offer. My intention has never been to make my followers pay for sex. On the contrary, I want to provide as many free resources as possible. I also like disclosing scammers. So what can we expect from EscortForumit.xxx?  
Is EscortForumit.xxx Any Good?
The general answer would be yes. The not so general answer requires some further investigation. The initial idea is that EscortForumit is not so bad. It has a nice, though not so extensive selection of VIP escort girls distributed in larger Italian cities. There are comprehensive descriptions about each girl and what she has to offer. Contact details and a number of pictures are available.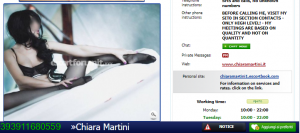 For example, this VIP girl Chiara Martini has her own website. But be very careful when you read their services because they usually include many details about what's possible and what's impossible. I hope that you understand Italian since I based my judgement on Google Translate, which can sometimes tell an altogether different story.
All Paid Features of EscortForumit
In the usual manner of large escort directories, you can find escorts by category, by location, as well as independent models and agencies. You won't be able to miss the ads placed from other famous escort sites. Keep in mind that you must pay for all of this.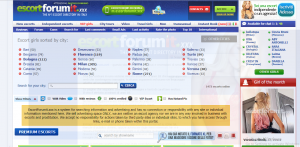 No way you'll get laid without opening your wallet or swiping your card!
If you decide to have fun in the virtual show world, beware of token costs and the rules of the particular cam site. EscortForumit.xxx links to Camplace.com, a popular cam girls web space which I have previously linked to other escort websites.
Famous Escort Directories
You will find banners by EscortBook.com, EscortMeetings.com, and a number of other, as the main site calls them, "premium sponsors". For premium sponsors, expect premium prices!
What .xxx Domains Are All About
Domains ending in .xxx are not such a big surprise for fans of adult content. They are special sponsored domains with commercial content. You should know that they are not exactly prone to offering free services. Expect to pay and expect to pay thick fees for premium content.
EscortForumit Final Checkup
I guess if you like wasting money on Italian call girls, you could find EscortForumit useful. If you are on a vacation in Italy and have extra money to spare, don't be a fool to think that these girls are cheap. You may well end up in spending all your extras and some savings which you've kept for rainy days! If you are looking for milf dating websites, check out why Milfplay.com is so popular!