This review of Escort Meetings is a fact-checking mission of what is going on around this website. As you already know, I review adult dating sites and try to separate the weed from the chaff. From time to time, I investigate a wider pool of hookup options, such as escort sites. They can really create problems for the majority of users who are looking for casual hookups at no cost. Most of the issues concern legalities and paid memberships. But by far the biggest problem of all is false or blown-out-of-proportion claims about what a concrete site offers. The offer is typically exaggerated. Let's find the truth in this Escort Meetings review!
EscortMeetings.com Review: Fact or Fiction?
Here is what the subject of my fact-finding investigation consists of:
No escort agency claims. Can you really say that there are not agencies on this website? No, because there is no rating or official verification system to differentiate between individual contractors and groups. This is only a method to distort the truth a little bit and ensure users that they are not going to pay extra fees for agency commission. Fact-check outcome: FALSE!
Direct contact with independent escorts

. As a logical step from point number one, you would expect to reach out only to girls and models themselves. Again, as there is no guarantee that an agency won't pick up the phone, you can't really say that you are dealing with an individual or a group. Also, Escort Meetings has dozens of links that include agencies, so this claim is absolute BS. Fact-check outcome: FALSE!

Listings accuracy.

NO ONE can go through each link, advertiser or profile and verify their credibility. So this is another nonsense claim that has no backup in the reality. If you read the "Terms and Conditions", you'll notice that they don't provide a 100-percent guarantee about the posted content. Fact-check outcome: FALSE!

New weekly entries

. A girl from a profile that was last updated in 2016 was in the "New Escorts" section. Her, and several more! Fact-check outcome: FALSE!

Top travel worldwide escorts. Well, I can classify this under partial "truths". Call girls on Escort Meetings come from anywhere and everywhere. But, I don't know why would you pay for call girls when you can use a mainstream app as Tinder for hookups on various locations, and some of the best adult dating sites for a unique experience.
Escort Meetings Reviews: Lessons Learned
Additional nasty features I found out by auditing this website refer to the girls' rates. Most girls have strict non-negotiables about payments, as well as higher priced down payments that must be paid in advance. For instance, this girl Izabelle charges more than $150 just as a basic cost. What else are you willing to pay to get laid? I also noticed the classical "Perplex User" strategy which includes selling cam services on hookup or escort sites. This time the link is to CamPlace.com.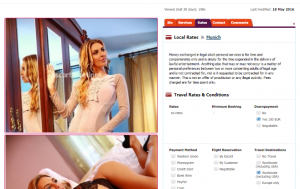 All in all, this Escort Meetings audit showed no great results in favor of the site. False claims about impossible guarantees just make things worse. Sometimes, aggressive marketing can really screw things up, such as with this overly boosted service. If you intend to get laid in this virtual dating world, have a look at how to get laid with Instabang instead. Good luck!