Eternity Girls is supposedly a fun UK website for escort services which looks like it has uploaded the page from a nightclub. All those flashing lights and sexy tags give the impression of a stripper's club.
I'm sure you don't have anything against strip clubs but I'm sure you're not in favor of paying expensive fees for hiring escort girls for sex.
You can stick to only looking and not doing anything else. In fact, this is the most common way users fall for the scam. That's why I pay attention to that in my Eternity Girls review.

Some users think they will only be happy with browsing the pics and applying the search filters. And in the end, they end up hiring a girl and paying enormous amounts of money for her time – if you know what I mean (clears throat). If you're among those who've had a positive experience, lucky you.
However, not everyone is so lucky.
I am talking mainly to those who want to protect themselves against scams. Scams and frauds are highly likely on escort websites like this one. Even if the majority of the girls are genuine, there are two or three rotten apples that can wreak havoc on the overall impression of a website. If you want to avoid payment, it's best if you stick to free casual hookup sites that don't push these types of girls on you. 
Eternity Girls Are Disclosed Call Girls
The agency says it is doing something completely legal. We all know what hides behind escort services but the agency has to say this to cover up the tracks of their muddy business.
Do you really think that these girls work only as companions and spend time with you?
What do you think hides under the full girlfriend experience?
Definitely not just boring company for an agency that's available 24/7 and during the night you're getting a whole lot more in the package. If you get the full package and not get lied to by scoundrels. That's the real deal in the Eternity Girls review.
Bonus EternityGirls.com Reviews: Real or Fake?
There are so many positive experiences in the Eternity Girls reviews (click here to read them) that I can believe they can be all true. If they are all true this is one of the best escort agencies in London. Reviews are included in the factors for search filters. This means that you can look for the girl with most reviews to get guaranteed quality.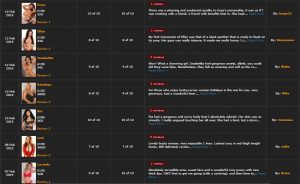 However, there are not that many girls that have more than one review. Most have two or three reviews and most of the scores are 10 out of 10 which makes them totally unrealistic. That's why I don't trust dating sites or escort website do they measure the calf only positive reviews.
Paid vs. Free Hookups
I got so wound up in checking out but other safe to say that I forgot to mention how does the booking process go. You can send a message or send an SMS or alternatively make a phone call. Girls only accept cash. Currencies are negotiable.
Consequently, you must ask the girl if she will accept other currency than the local one. Rates are on average between £150 and £200 per hour. Evidently, you will have to pay a lot more than if you just find someone to get laid on a free dating site.
Wrap-up of the EternityGirls.com Report
Now, what are my final thoughts about the site and their services? Although the main consumer reviews for the girls on this escort website are abundant, I don't find them very credible. Finally, the situation with the rates is business as usual – too expensive and not concise. All logic goes against booking escort girls, even if they're one of the best in the world like, even these kinky independent contractors based out of London as well. My point is that you're not going to get anywhere with this approach. I 100% guarantee that you will NOT be satisified. 
If you're looking for companionship, then look here instead. You'll have better luck, trust me.