If you are interested in finding the best alternative for NSA relationships and other one-night-stand solutions on the UK market, you might have come across some of the Venntro Media websites. DateForSex.co.uk is one of those sites with dubious features. It has nothing to do with serious stuff. The services they provide are even less than serious.
Why is DateForSex.co.uk a Suspicious Hookup Site
The problem with many of the services that belong to such Networks is that they use the same systematic fraudulent tools available for all subsidiaries. Although there wasn't a mention of the fabricated profiles in the site documents, we suspect they exist. But without proof let's focus on what we have evidence for.
The Website is Associated with Venntro Media – Known Fraudsters
This paragraph explains the strategy this company uses to lure people in. It's much easier to perform a scam when the one is organized by a someone with an experience. In the past we have uncovered that Venntro are top performers of adult dating scams. If you browse these reviews connected to the list of sites you're one step closer to finding out the truth about DateForSex.co.uk.  Visit the domain Naughty Shag to read the whole list of websites that belong to this company.

Three Types of Credits for Naive Customers
As usual, the free subscription doesn't offer many solutions for free. Despite creating the profile for free, you're stuck if you don't upgrade. Upgrade options are versatile and expensive. Credits are used for sending messages. Gifts are used in the virtual world to entice interest. Bolt–ons for exclusive services cost more. As you can see, the site is pretty creative in finding ways for money extortion.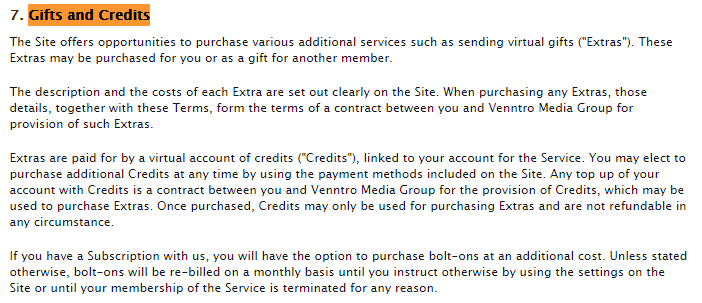 Insecure Links to Third-party Providers
No company can provide high-quality services by itself. This is how they usually work to support the basics of their operations with collaborators. Sometimes, though, working with collaborators is only with an intention to cover up dirty practices with cam services, video content and fake profiles. So, when you must check what the other service define for their users, things are fishy.
Price Tag
10 credits for sending 10 messages that cost £15
25 credits for sending 25 messages that cost £35
50 credits for sending 50 messages that cost £65
100 credits for sending 100 messages that cost £120
200 credits for sending 200 messages that cost £200
Busted or Trusted?
DateForSex.co.uk is a member of Venntro Media. For us this is a proof good enough to stay away from the service. If you need to do additional checks, be our guest and take your own tour. On the other hand, you might not want to choose to waste your time on this and just search hot dates elsewhere.