A day couldn't go without finding out about another fraudulent dating service. That's not big news because Venntro Media repetitively push the same combination of tricks on their partnering websites. This time we meet with SlagStreet.com, which is intended for an audience in the UK, the USA, and Australia, but it seems anyone can join. Not that you'll have some superb success with those specific locations because no matter what's your location, the scam is the same.
Why is SlagStreet.com a Fraudulent Hookup Site
When a site is for entertainment purposes, we all know what that means. There are no promises of getting laid. Yes, that's right, no one can promise you casual dates but don't underestimate the matching algorithms of hookup sites that work because they can really spice up your dating drought. It's not like all of them are fake and that you need to base your conclusion about a site on the basis of what you found here.
SlagStreet.com is a Venntro Media Website

Free Memberships You Get Nothing For in Return

Take a look at the difference between the paid and the free subscription. You can register for free but you cannot do anything for free. You need to get an upgrade. That's exactly what happens on all illegitimate dating sites, where you get glues to fake profiles and then do nothing. Yes, you can do something only if you pay or buy some of the expensive tokens that carry so many different names on SlagStreet.com.
Fake Profiles for Entertainment Only
Stay away from sites that state they are for entertainment purposes. It means nothing. It's just a clever justification to implement fake profiles, call them flakey – of course, the point on SlagStreet.com is that they may not be genuine because they cannot promise the authenticity of the people that join the site. That's a nice one to pull off SlagStreet.com because it can help you hide away behind anything.

Credits, Extras, and Bolt-ons
These offers for subscribers are just fancy names to sell you communication tricks that you don't need. Namely, with these tokens, you have better chances of getting laid. Some of them are even sold as some sort of rewards for premium subscribers that not everyone can get hold of. The strategy behind is to give interesting peculiar sounding names to services so that they look like a more attractive purchasing option!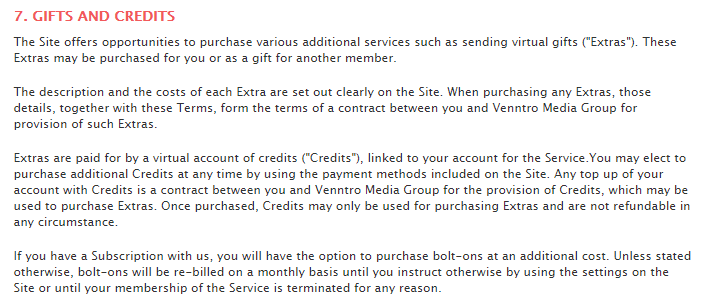 Price Tag
6-month subscription is £74.69 per month.
3-month subscription is £45.94 per month.
1-month subscription is £22.94 per month.
1-year subscription is £103.44 per month.
Busted or Trusted?
SlagStreet.com is just a typical product from the Venntro Media lab. We have performed countless other reviews that connect the same company to dozens of fake websites, You actually don't need additional proof because the "Terms and Conditions" document on the site explicitly say that they are operating as a partnership of sites that has your profile data all over them. That's another reason to have you concerned  – you have no control over what you share and with whom.