There isn't much to tell about Bournemouth, apart for being a seaside resort the sound of the United Kingdom we should say most for its bars, sunny beaches, and exciting nightlife. We've already talked about the appealing escort life in the United Kingdom and its liberal dating policies. London has been a part of this reviews many times in the past and you already know much about hiring London escorts and the risks and the dangers associated with paying for escort services.
You probably remember that escorts in the UK can work as individual contractors and that agencies can only have administrative roles. Despite all the liberty, the same scams show up. You need to keep an eye on them and be more vigilant. If you find yourself around Bournemouth it would be useful for you to read this Hardy's Angels review.
Hardy's Angels Review: Bournemouth Escorts
I like this website.  It's presentable with a nice design and it contains a lot of information that you will find useful. You can make the booking via the contact form on the website or by calling a specific phone number. the pictures of the girls look nice. There is a complete gallery for all of the girls working in the Bournemouth agency.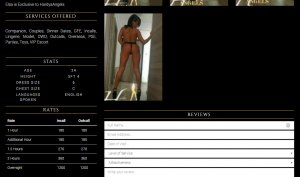 Each profile contains the main photo, an array of additional photos, a description of two or three paragraphs about the girl's specialty, a section about her rates, as well as a space to leave a user review. It's nice that they have thought of including a section for submitting user reviews but even if you try to read these Hardy's Angels reviews somewhere there isn't any display where you can read them publicly.
Rates are around the average sums that show up on European escort site, but are nevertheless not cheap and a full night with a Hardy's Angel can cost you over £1,000. The problem with user reviews becomes evident in the following section.
How to Submit Your HardysAngels.com Reviews
There is the process you need to follow to submit your review of the experience you had with the girls.

But since no one else can read it besides agency these reviews don't really have too much credit. In the section about the working process, the agency explains how it collects feedback from users and how it pays a lot of attention to let the girls know how to behave in the best possible ways when serving customers. Since there are no public reviews, these writings are just empty words and stories. Anything can be told on a website, which doesn't make it the truth.
How Much Does it Cost to Hire a Hardy's Angels Escort?
When you hire an individual contractor you need to make your own arrangements on each separate occasion. Therefore, even if you get the rates at the start, you must check each and every time if the full service will be included in the rate. For illustration purposes, here is how much one of the better ranking girls on Hardy's Angels costs:
| | | |
| --- | --- | --- |
| Rate | Incall | Outcall |
| 1 Hour | 180 | 180 |
| Additional Hour | 180 | 180 |
| 1.5 Hours | 270 | 270 |
| 2 Hours | 360 | 360 |
| Overnight | 1200 | 1200 |
Hardy's Angels Review Final Tips
If this looks like an expensive date that is because it is. It's funny that they don't present the difference between incall and outcall dates, but this really shouldn't concern you. If you're one of my typical and regular readers, then you're not really interested in finding fun on escort websites.
I write these guides to be used for informational purposes only and to help my readership learn more about the adult dating world. In fact, I want them to avoid commercial and paid dating services which are just rip off platforms for people who don't have much experience.
I always recommend using free dating sites and casual hookup apps. There are plenty of them out there and many give much better results than wasting your time on escort websites. That's the end of this Hardy's Angels review. I hope you find it useful when you visit the south coast of England.