Most of the escort agencies I have reviewed in Europe are new. Target Escorts is well over two decades old. This gives it an aura of unmatched experience. Of course, this is only true if you follow the information on websites and hold it as absolute truth. From my experience, this is hardly ever the case. There are so many lies told on fake escorts sites, fake classifieds, and scamming dating sites, that I take every piece of information with a grain of salt. Can we find out what is true or fake on this commercial dating agency? There is only one way to find out – by digging into this Target Escorts review.
TargetEscorts.com: Site Feedback
The agency calls itself exclusive. Well, that's one way to name things1 The other way to call this escort service is a rip-off. With rates as high as 2,000 euro, this is one of the most "exclusive: world escort websites. Maybe the reason for using the word "exclusive" is their high-class locations.
Target Escorts Review: Exclusive European Escorts
Target Escorts is available for booking in major German, Swiss, and French cities, mainly travel locations. On the other hand, the site includes a "Magazine" section with information about tourist resorts in these countries.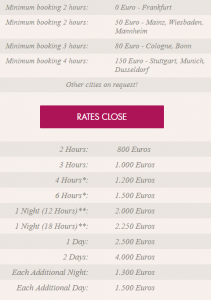 That's all under the hoodwink to have fun with the girls. But I think that's one huge advertising platform to push for specific hotels. Nonetheless, that's all fine and legit. But the girls are at the high end of luxury and below we'll find out more about that.
Target Escorts Review: Luxury Services
You not only need to pay for the rates, but also for travel fees. Rates are visible on the website, as well as the pretty detailed info about each girl. Profiles and pics are nice, clear, and the girls are well groomed and classy. They are even too classy if you ask me. Just check out the typical requirements of the call girl Laura.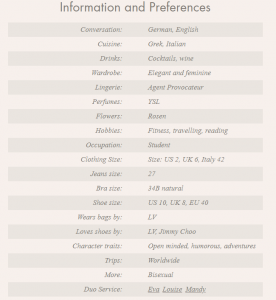 She is pretty designer-oriented. Nothing short of expensive French designer bags, perfumes, and lingerie! Add that up to the rates, travel fees, and hotel expenses, and you need well over a few thousand to book just one girl for one date.
Is Target Escorts Worth Any Effort?
It's great for browsing and checking what's going on in the world of European dating sites. But it's not for casual dating and you shouldn't mix it with cost-free adult dating sites. Although it promotes exclusivity, it's a big question how much of the information is verified and genuine when there are no Target Escort reviews submitted by the public.
Make your own snap (pun intended) or weighed judgment. However, I see no reason for spending 4,000 euro for 2 days on one girl when you can have triple the fun for less on websites dedicated to adult dating for free.
I'm proof that it can and will happen if you put the work in – all without having to pay too! Do yourself a favor and don't hire one of these Geneva escorts without first giving one of the casual sex sites a shot.