The page Chrome snippet gives it all to you. It's about photos, pornos, and non-retouched selfies of hot Latinas in Chile. This website looks more like a webcam service than like an escorts directory. The pictures of the girls are like from porn videos. Although I found a piece of the content to be truthful, there are fake advertisements, astounding booking rates, and false pictures. In a way, this escort directory reminds me too much of fake adult dating sites. Just put the name escorts to a website and scam the people in new ways. Read more about the dangers of finding dating prospects in the Chikas review below.
Chikas Review: No Retouching, Like Hell!
Some of the photos look real but most of them are photoshopped, I guarantee. Verified profiles include videos and look like they come from a cam site. Chikas uses WhatsApp to set dates with the girls. Each escort has a profile portfolio with detailed information. But if you hired the cam girl and tipped her generously, you would have spent less than ever considering the rates on this escort website. They range up to tens of thousands of dollars per hour. It makes me wonder if this some kinds of mistake.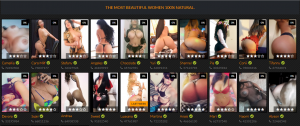 Videos look like they're professionally done. This fact just raises my suspicions about the genuine intentions of the service.
Chikas.cl Review Exposes Ginormous Rates
Just take a look in the profiles of the girls! Those that are most wanted or the recommended profiles range anywhere from $25,000 or $30,000 per hour and even $40,000. These rates are ridiculous! I can't even believe that somebody is charging that match! The only explanation I can think of is that they made a mistake and thought of Chilean pesos. That's a totally different story.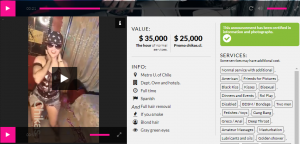 Another big problem with Chikas is that the girls' profiles contain warnings that some services may have extra fees. Any extra charge can hide behind this morning so you'd better look out!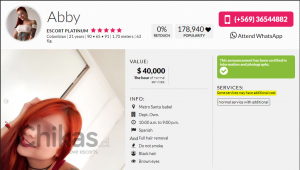 Are Chikas Reports Genuine?
The site contains enormous amounts of unverified members. I doubt that they have that many members as they advertised on the website. If you like a girl you need to go to her profile and check each profile specifically. If you see a profile marked with a red warning sign saying that it is a non-verified member avoid it at all costs! The reports and feedback from users seem genuine, but I can't wrap my head around some of them. They seem like they're coming from girls and they don't tell the story about an escort date It's just casual blabbering. That has nothing to do with helping you around the service.
Call it Quits on the Chikas.cl Review!
Do you really want to take a risk with an escort directory that looks like a webcam service? Do you want to get robbed by a fraudulent business that creates porn-like videos? I guess not! That's why you should stay away from sites like this! Especially when they have these key elements, such as videos, fake pictures, and non-verified advertisements. Stick to genuine dating on casual hookup apps and you'll be much happier in your sex life.