AdultDirectory.co looks like an Australian or Southeast Asian Backpage. The problem is that it is poorly designed and almost inactive. So, on top of creating all confusion as usual fake classifieds sites do, this one also has a very scarce potential even for paid dates. You get the usual mix up of categories between dating and escorts. The same profiles with almost identical content are all over the categories.
Information about prices is very limited. Apart from becoming prey for scammers and fraudsters who don't disclose fees, read this AdultDirectory.co review to learn more about the additional problems you can encounter on this site.
The Short, Sweet & Bitter of AdultDirectory.co Review
Nothing much on the sweet side, unless you consider sugar babes a part fo this deal! I'm sure you know they cost a fortune. If you find one under "Dating" or "Classifieds", don't fall for their sweet words as you will need to pay a lot. They don't come for free. I have plenty to say about the bitter stuff on AdultDirectory.co. Pay attention to different domains with almost the same name because they carry various threats. You need to know them all. I will be reviewing many of them in the forthcoming period so you'll have a chance to get to know them better.
Dating vs. Escorts Mix-Up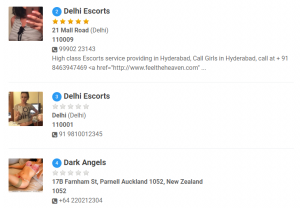 The first thing to do on escort directory websites is to check the authenticity and the relevance of the ad categories. If the page is like Craigslist or like the shutdown Backpage, you can expect many ghostly categories as well as confusion about who wants what.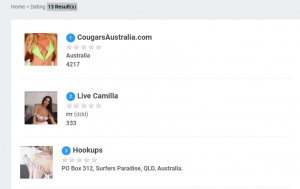 Three critical things assured me that I cannot trust AdultDirectory.co for anything more than for links to external ads. The first one is the lack of advertisements in alternative categories. For example, the category "Miscellaneous" includes 3 (Three! really?) ads listed on the main page. But if you actually click on it, it's an empty space. So, the website is obviously struggling to find a decent place among escort providers.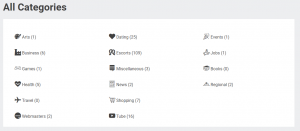 The only reliable thing is linking to multiple escort sites and agencies in the Delhi, Mumbai, and Australian areas. I wouldn't give much credit to those because they don't present real prices, offer AdultDirectory.co reviews for users, neither they give info about the girls.

AdultDirectory.co is NOT a Dating Site!
As I said before, the categories "Dating" and "Personals" are one and the same. The descriptions of the girls are identical. It's so obvious that these chicks are not looking to get find casual dates. They are just rip-off streetwalkers. If you really want to join a free adult dating site, stop wasting your time on fake dating directories full fo nonsense ads. Start doing the real work on genuine dating services, such as those listed in guides on legit review sites.  
You'll have WAY better luck using a "Bang" for free website. I've done my part today to share that site as well as how easy it is to join the website.