Since I've found many shaky escort directories in the UK area I'm not surprised that I'm writing this Loyalty Escorts review about the same region. The website uses an almost identical system as some of the other London related escort agencies I've explores before. Don't fall for the sweet smooth talk of the UK based escort agencies. They're quite expensive and although not so pricey as their U.S. counterparts, they still don't offer chances to get laid for free. So let's see what you can find on Loyalty Escorts.
Loyalty Escorts Review: Prices, Tags, Live-in, and Types
Although the girls take center-stage, the menus are divided into several important categories for users. You can see which girls are live, choose your favorite escort type, those that you can enjoy with, as well as look at the prices. The gallery bursts with sexy photos. I must admit that many of them are photoshopped, so I can really tell you if the girls are realistic. Just too many of them are five-star girls.
The "live in" category includes famous London locations to search for a specific girl. The "types" category is mostly about London hotels and other locations as well about physical characteristics. The "Enjoy" category lists typical sexual preferences or sexual styles. Prices range from £100 to £600 per hour. Of course, specials like dinner dates and overnights are more expensive.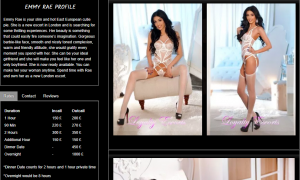 So how much do you think a girl on LoyaltyEscorts.com will cost you hire her for one night? Let's do the math! You will need to pay at least £100 for the cheapest girl. Normally, no one really hires girls for just one hour because travel and all other arrangements last longer than that. Then you may really like to hire a more expensive girl and just 2 hours with her can cost you over £1,000!. Not to mention all other perks that they require which may not be able to fulfill at all.
Loyalty Escort Reviews from Clients
On the first glance, user reviews look pretty realistic. The maximum score is 5 and many girls have 3 and 4 stars. However, the majority have 5 Stars. I think I know why is this. The directory gives a free date to anyone who writes a positive review about one of the girls.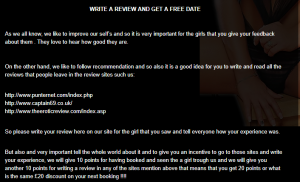 Whether these are realistic reviews from real users is an open question for which there is no proof on the site. It remains to be seen if you call for one of the girls. If you do so, please post a comment to change my opinion about the authenticity of the reviews.
Conclusion about LoyaltyEscorts.com
With skyrocketing amounts such as thousands of British pounds, LoyaltyEscorts.com is not an attractive alternative for dating. For someone like me who looks for affordable options for personal use as well as for my followers, something else is better!. But if this is your preference, go ahead, be my guest. If you're for another alternative, then you might want to look into free options for casual dating and find your favorite among the plenty of good ones I have reviewed on this site.
Again, the Punternet alternative isn't as loyal as they make it seem. In fact, you'll most likely never get laid using LoyaltyEscorts.com nor should you expect to do so. It's essentially a fake london escort guide that cannot be trusted. Simple as that!
If you want to be successful when it comes to banging, then start over and avoid the obvious!