It would be nice to have a chance to meet well-standing people online, especially as people who are rich usually don't have too much free time on their hands and like using the advantages of adult hookups sites to find dates for sex. WealthyMatch.com has a very convenient name for those of you who think that online hookups are the right way, but the only thing the stands up to the reputation of a classy site is the interface, while the essence behind is a rip-off package.
Authenticity
Although the wrapping of WealthyMatch.com is a notch or two higher than the average giving the impression that you are dealing with some business that only provides the best, it doesn't take long to figure out that the outside may be shining but the inside is rotten.
This fraudulent dating site actually uses the same old scammy tricks applied by sites of lower quality, which in the end gives the same result – hundreds of tricked customers who fail in the plans of multiple successful hookups but manage to have their credit card swiped out to the max.
Why is WealthyMatch.com a Fraudulent Dating Service
There are plenty of reasons why I have my doubts in the WealthyMatch.com intention and way of doing business, and here are my quick tips to help you decide whether you should join the site:
Members must carry all transaction fees related to the subscription.
Your subscription fees may be clear from the rates, but you for sure don't think of all handling fees that could fall on your back. Well, at this rip off dating service you pay for everything. The point is that you agree from the start to all fees, which can end up in a disaster down the road if you don;t know what to expect: "For your convenience, the costs and duration of your membership are supplied to you on our registration page on signup. You are responsible for all costs associated with your use of your selected payment method including, for example, exchange rates, transaction fees, interest, and other fees charged by your credit/debit card companies and banks."
WealthyMatch.com claims it is free but asks for credit card preauthorization.
Yes, the typical scam of free membership is at place – it seems like you are getting 100% free lifetime membership but in practice, you must be paying for sending messages. The credit card information is not only for verification because Wealthy Match keeps you accountable for preauthorization charges: "Credit card users may be subject to a preauthorization. The preauthorization is not a charge to the credit card. However, the then applicable monthly subscription rate may be reserved against the Member's available credit card limit. The Website will not be held responsible for bank charges, fees or penalties due to overdrawn or delinquent Member accounts."
3. The privacy policy is loose and you give personal information as a gift to dozens of other companies.
There are no restrictions in regards to data sharing. Literally all your personal information can be given as a gift to other partnering companies so that they send you promotional offers and use your data for marketing purposes: "…your acts of signing up as a subscriber to the Site, you are agreeing to all of the following: (1) that Site has your permission to collect your email address and all personal information you supply relating to that email address; (2) that Site has your permission to disclose and transfer your email address and all other personal information you supply to its parent companies, affiliated and related companies, affiliates, agents and service providers to promote and/or provide goods and services. (3) that Site has your permission to share your email address and all other personal information you supply with its third party marketing partners so they may send you offers and promotions which you may find of interest, either by email, direct mail, or SMS."

WealthyMatch.com works with Love Stars.
Again with the same tactics of creating fake profiles to lure you in into more expensive upgrades. Love stars are virtual bots who activate the site communication and keep the water running by nudging potential customers into increased fees: "You understand, acknowledge, and agree that some of the user profiles posted on this site may be fictitious or models or bots related to our "Love Stars" ( ) program. Our LS work for the site in an effort to stimulate dialogue with users and to stimulate user participation on the Website and Services, advertisement of the Website and Services, and the creation of user profiles. The LS also monitor user activities and communications to ensure compliance with our Terms and Conditions. You understand, acknowledge, and agree that the information, text, and pictures contained in the LS profiles do not pertain to any actual person or member, but are included for entertainment purposes only.

Google search revealed commercial images.
Images in the testimonial stories are found on commercial sites – no original customers by false stories that are not based on real experiences on the site but on fake successes not based in reality. Check out the images below:
This one is from the testimonials: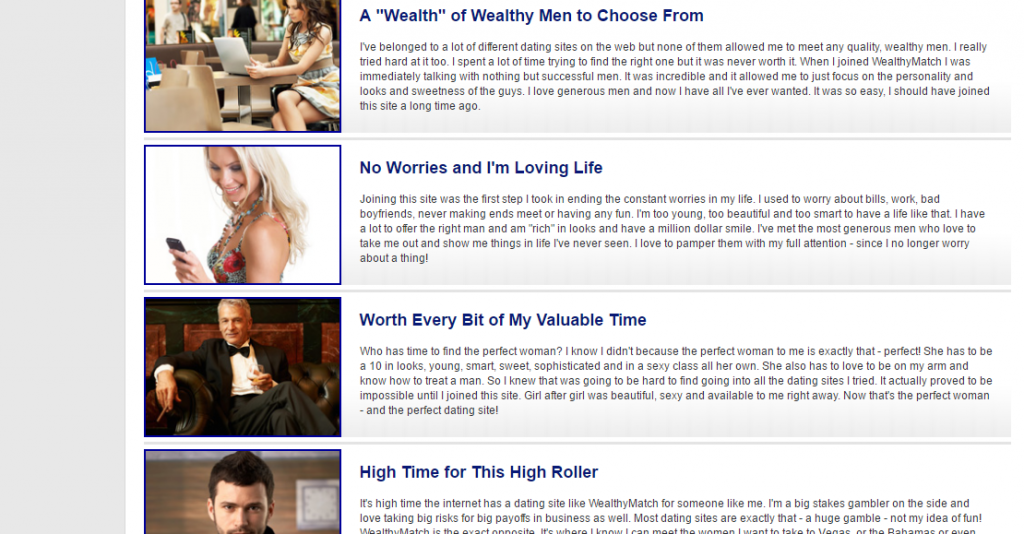 This one is from Google commercial stock photos: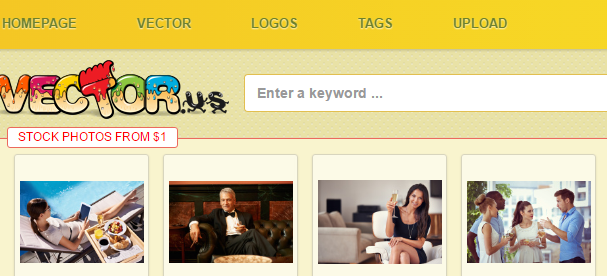 Price Tag
$2.97 for a 3-day trial subscription, automatically renewing at $39.95 per month

$29.95 for a 1-month of subscription

$74.85 to buy 3-month of subscription

$119.70 to buy 6-month of subscription
Busted or Trusted
Even if you are really rich and don't need to keep an eye on each dollar you are spending, it doesn't mean that you want to be ripped off. As a matter of fact, as far as I know rich people are rich because they are extra careful with their money.
Apply the same thing to this subscription here and you won't be sorry. Don't just hop in into the promise of spectacular dates because you will find mostly fake profiles. It would be hundred times better to spend your money on typical dating sites or in real expensive bars.