UnitedKingdomDates.com is a new discovery with old tricks. It belongs to a company that works in niche industries using the same methods but naming the sites differently. As you can see, many fraudulent partnerships that get into this business use similar strategies. However, not everyone is so familiar with how they are creating a poor voice for the adult dating industry. Despite the decent dating providers, the scavengers feed on inexperienced customers
Why is UnitedKingdomDates.com a False Dating Service?
If the fact that they make hundreds of same hookup sites, perpetuating the same fraud isn't enough for you, then this next section will definitely change your mind and make you stay away from this site.
Fantasy Profiles to Create User Engagement
The warning for the fantasy profiles is put on the front page. That is – if you manage to notice the small print among the big flashing letters that warn against age limitations. You may think that this is a fair practice, but it is actually quite a conniving way to redirect your attention to another important fact and make you miss what else is there.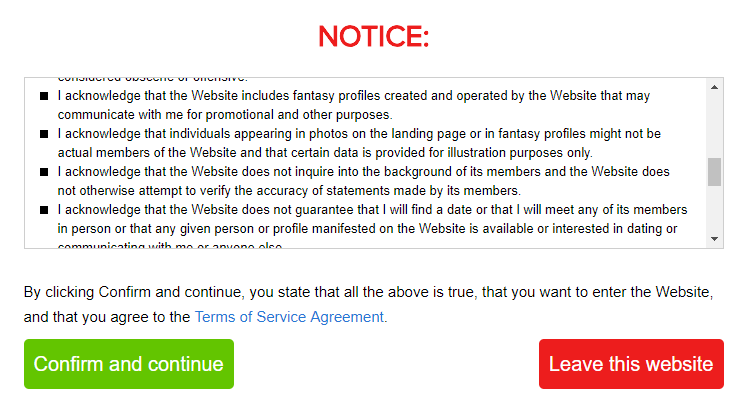 The fantasy profiles impersonate real women. But hey when you're online it's difficult to notice that you're being pulled by the nose. Unless you really pay attention, you will engage in chats and message exchanges with fake profiles created by computers. You won't even notice when that smart bot takes you for a ride and makes you pay way more than intended.
The fantasy profiles keep sending messages and attacking your inbox, even if you don't have a photo uploaded. In just half an hour, you will receive a dozen of messages from interested women who seem like they don't have anything better to do them hook up with you.
Expensive Credits for Naïve Members
As a part of the free tour on UnitedKingdomDates.com, you only get to see the profiles and browse the site. Real communication is impossible unless you pay for the credits. Evidently, the purpose of the fake fantasy profiles is to bring you to the point of buying as many credits to engage in more communication.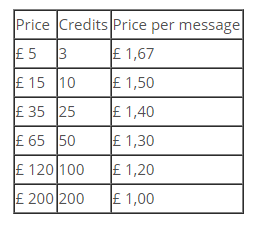 But will you find real women on this site or just keep chatting with computers thinking that you have a chance to get laid? Another problem is that you won't be able to tell how many credits you have spent and what's left. They connect the credits with a specific number of messages, but say nothing about the length or the frequency of the messages. This is just another trick to get the money out of you without clearly saying how much you need to pay and what you'll get for your money.
Cost to Join UnitedKingdomDates.com
10 credits for sending 10 emails cost 

£15.

25 credits for sending 25 emails cost £35.
50 credits for sending 50 emails cost 

£ 65

.
100 credits for sending 100 emails cost £120.
200 credits for sending 200 emails cost 

£200

.
UnitedKingdomDates.com in Summary
It's nothing new for us to find out that these sites that use credits are using deceptive practices. We've seen that red and green flashy alert one too many times to forget it. It's so easy to fall for the scam for the first time, but not if you follow what's going on in the hookup industry and get acquainted with how these network companies work with multiple dating websites. Be careful when you start paying for those credits because you may end up in a big minus before you know it.