There are hundreds of dating sites that belong to the so-called bridal order services, which name is not exactly a good label. It's not like you're going to order a bride and pay for her like you are doing a shopping order. But you will for sure get charged for the service without any promises of success.
VeronikaLove.com states that it connects you with Russian and Ukrainian girls, especially drop-dead gorgeous girls who like reaching out to men from western countries. That happens in real life, but whether it happens here, it's a question that deserves its won scrutiny by the team od Adult Dating Patrol.
Why is VeronikaLove.com a Suspicious Dating Service
There are a number of reasons why we don't believe that VeronikaLove.com is really so awesome. It's not at all as powerful connector as some of the testimonials claim it to be.
 Ridiculously Hot Women in the Member Gallery
Yes, we've all heard about how beautiful are Ukrainian girls and their Russian neighbors. Fact is, they're bombshells, no doubt about it. But it's not like all of them are qualified to become Miss Universe.
Now, if you have a look at the member gallery on this dating service, you'll find out that all of them are stunning. Even if they've put their best members on the front page, their looks are unbelievable. No sane person would believe that super-hot young girls would like to get married in seconds to anyone that comes around from a western country. But people are easily fooled, fall for the fantasy and later pay the price.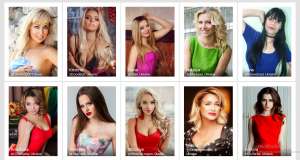 Translators to Check Messages from Local Languages
It seems that many members asked this clever questions. If the girls speak only Russian or Ukrainian, then how on Earth do they communicate in English? VeronikaLove.com gives the following justification: "We engage special translation services with translators who've promised to be discreet and keep members' privacy". Do these translators sit next to the girls? Do they watch what they are typing?
How likely seems this practice to you? It's not at all believable, especially if you consider the number of credits you will need to pay for various types of communications.

As you can see, each small service costs extra credits. By the end of your tour, you'll be totally broke!
Price Tag
20 credits cost $15
45 credits cost $30
85 credits cost $50
180 credits cost $99
300 credits cost $149
550 credits cost $259
1250 credits cost $499
Busted or Trusted?
Suit yourself if you like to try the hookup powers of VeronikaLove.com to find a hot Slavic girl. Are you going to succeed? We really doubt it. It seems that the site is more of a webcam service than a real dating provider. In the end, it may all just end up in the realm of fantasy. Do you really want to pay hundreds of dollars just for that?