Do you want to know why we immediately knew that UKFornication.com is a fraudulent dating site? Our team has a great memory and it didn't take long to figure that one out. Two other deceptive dating sites created by connective development called UK Sex Match and UK Sex Flirt are just about the same. Not only the names are similar but the content is almost identical, too. If you thought that only the words "UK" and "sex" can be used to produce identical frauds by making adult dating copies, then you're wrong. The same content is posted on other sites with totally different names but almost the same features. And definitely the same agenda.
Authenticity
Here we go again with the same old way of scanning uses. Did you think that you got rid of the fictive profiles? Did you by any chance, think that the automated messages will stop? Prepare again for the nasty surprise. They are there and they send a bunch of chat messages, and they use fake photos, and they are included in the terms and conditions, and there is nothing you can do about it if you want to join UKFornication.com. Here is a visual proof of their existence: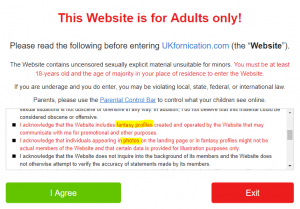 Why is UKFornication.com a Master of Adult Dating Scams
The subscription on UKFornication.com is not free. On top of everything, you need to pay a basic package and need to pay an additional fee to purchase credits. This means that you need to calculate a double rate – one for the subscription and one for the credits because you need the credits to send chat messages. Why is then the purpose of the basic subscription? Obviously just to fool you into thinking that you're getting a cheaper deal when you're actually not. There are other problems associated with the credit purchasing, too. They're non-refundable and they cannot be exchanged for money, they expire after a certain period of time and if you stop using UKFormication.com you will lose the credits altogether.
UKFornication.com will ask you to provide an ID if you pay them more than £300. I wonder why is that so – can you tell me why do they need to get your personal identity documents to complete this? They call that some sort of identity check to protect the identity of loyal customers but it seems somehow scammy.


The rest of the problems connected with the credit purchases become obvious when you try to calculate how much will one day on UKFornication.com actually cost you and how much will an average conversation with a hot cutie be. Having in mind that the price of the credits varies by different rates and different duration you will be very confused about the actual fees by the end of the calculation.
Price Tag
1-month subscription is £10
3-month subscription is £24
6-month subscription is £39
12-month subscription is £49
Don't forget to include the credits on top of that!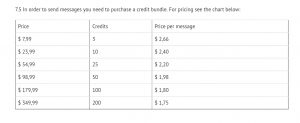 Busted or Trusted?
You want me to go too far ahead to understand that we have busted UKFornication.com. We are successfully busting all fake hookup sites associated with Connective Development. This one joins the company of UK Sex Match and UK Sex Flirt. No big surprises there!