GetanAffair.com seems like it has invested a lot into its interface and its features. It doesn't look weird or low class, it has nice image resolution, clear links to policy documents, advanced technical features and an adapted mobile site. It even looks much better than the average, titillating you to check it out and see if this is really the place for finding online affairs in a convenient way – just with a few step signup form and for no cost. But is this the real truth? Let's find out about the results of Adult Dating Patrol's investigation.
Authenticity
The signup procedure is simple for real and does not require much from the user, which is a pretty favorite thingy of mine – I hate spending half an hour on registration – if I want to be explicit and specific, I will do ti later. However, once you are in, you will quickly learn that regardless of all those features and tools, you will not be able to do much around the site because you must pay. Also – you get non-stop communication by staff to give a false sense of activity and create a sense of urgency to sign in without any promise for hooking up. All you get to see is the upgrade screen which provides a trial, and three subscription packages – for one, three and six months. Let's look into the automated system in more detail in the section below.
Why is GetanAffair.com a Fake Dating Site
And you agree to this by registering – there is no way around it. Moreover, they come in the package with the fake profiles so it is a double scam made to think that you are actually haveing a chance to find and meet someone alike the staff profiles used on the site. In addition, your inbox will be bombarded by constant upgrade alerts – trust me, this is not a happy occurrence when you are online hoping to get laid with a real person.

You are forced to upgrades by messages urgency.
So, I went online, created my account and just in minutes (I wonder how did this happen when I have not even uploaded a photo or put any serious info on my profile, but I justified that with the newbie luck and attraction) I started getting notifications. But wait – one was from the staff admin, and the other was unreadable unless I upgraded to one of the paid packages – get the idea now? Here is how my inbox looked: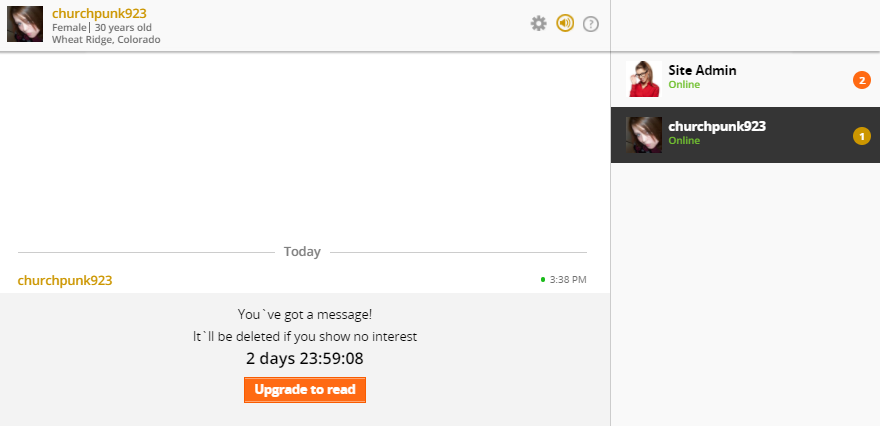 The free membership is not actually free.
When you can just sit and do nothing, I wouldn't consider that subscription free – I would consider it a scam because its only purpose is to collect new subscribers:

There are no guarantees about security on Get anAffair.com.
If you expect that there is someone having your back at Get anAffair.com, don't be o hopeful, sure and optimistic, if you haven't read the Terms of Use. Albeit the site looks very professional and contains detailed security regulations, providing security support to its members is not one of them:

Last but not least, there are fake women called Staff Profiles.
Employees who imitate real women and work for the site are a usual fraudulent practice of online dating scams. They take the lead when you join and their task is to entertain, cajole, send offers and upgrades, and chat you into purchases. But when it comes to a real date, you should know that nothing will happen on this site – so, it is best that you look for your luck in casual sex elsewhere.

Price Tag
3-day usage is $0.99 a day
1-month subscription is $0.91 a day
3-month subscription is $0.51 a day
6-month subscription is $0.41 a day
Busted or Trusted
That is right – we busted the fraud. We took it by surprise and expose the dirty scam of GetanAffair. I guess the better name for the site would be "Get a New Card" or "Get a Lawyer" because your old one will be supercharged with unnecessary and futile subscriptions that won't lead to a date. As far as lawyers are concerned, I don't even want to go there. My advice is that it is much better to rely on prevention than having to deal with lawyers for these type of services.